Tips: Visit our store: You can order an SEO service from our company online, and we will start working on your website much faster. 
---
Fill out the form
and get a free quote!
GET A FREE QUOTE FOR SEO ACTIVITIES FOR YOUR BUSINESS
Leave us a contact to you, and we will call you back and present an offer tailored to the needs of your business.
---
SXO, or Search Experience Optimization, is a comprehensive approach to the topic of website optimization and increasing its popularity. Its assumptions include not only positioning, but also taking care to increase conversion and improve user experience. These are not treatments that are new in themselves, but when combined with other marketing activities, they create the most effective strategy. All SXO elements interpenetrate each other, effective techniques take into account the relations between them. After reading this article, you will learn what exactly SXO activities consist of, how to implement them on your websites and why it is worth investing in them.
In 2021, SEO alone is not enough!
In recent years, in the world of internet marketing, you can observe a clear tendency of interest in SXO activities. It consists in the fact that search engine administrators pay more and more attention to the fact that website creators care about the needs and comfort of users. User Experience-related activities are not only an element of improving conversions and building better customer relationships, but also have a significant impact on organic search results. Two major updates of Google algorithms related to this issue are planned for 2021. One of them is the increase in the importance of Page Experience Signals in determining the ranking of the website, announced a year ago. You will learn more about this issue later in this article. These signals include Core Web Vitals, i.e. the speed of loading graphical content, waiting time for interaction and visual stability. In addition to them, it also takes into account securing the website with HTTPS protocols, strengthening its security, lack of invasive ads and adapting the website to mobile devices. The latter is also associated with the second major update of the algorithms this year. It is to give priority to indexation for sites in the mobile version. This should not come as a surprise, because in 2020, according to the data provided by the HubSpot portal, the share of mobile devices in searches exceeded 50%. Customizing websites for smartphones is no longer just an option, it becomes a necessity. Both of the updates are based on improving the user experience and taking them into account as ranking factors. This means even greater interpenetration of UX elements with positioning activities, to the extent that it is actually difficult to separate them. This shows that SXO is the direction that will be followed by website optimization in the coming years.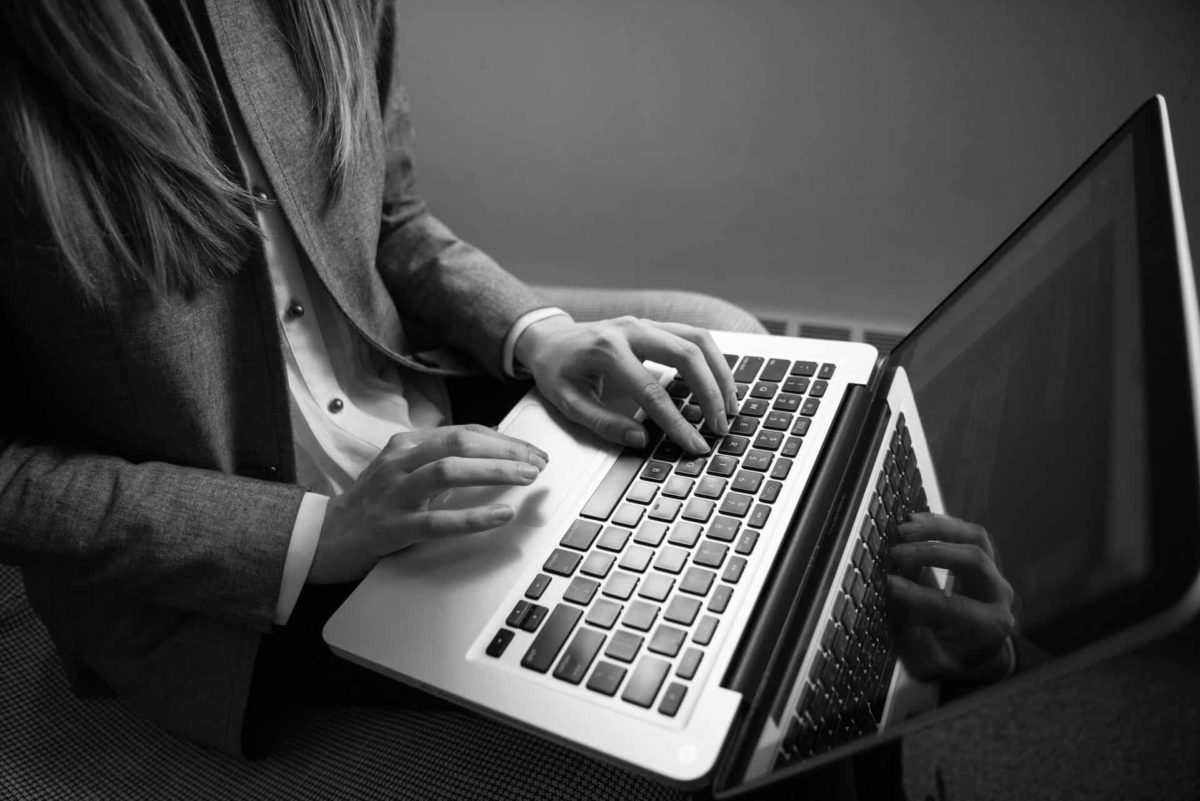 Building an SXO strategy – what to pay attention to?
As with creating a standard SEO strategy, you should start implementing SXO by conducting an audit on your website. However, it will be much more comprehensive and will include more data in its research than traditional, purely SEO-oriented. Thanks to this, it will contribute to diagnosing problems that concern not only visibility in organic search results, but also conversion and its related indicators. In addition to the elements known for positioning, such as: saturation of the content with key phrases (in the right number and in the right way), building a network of links, ensuring the technical aspects of the website (friendly URL, metadata, etc.), things that affect the user experience will also be checked . How relevant should they be to you? According to surveys conducted by the Intechnic blog, as many as 67% of respondents admit that a poor experience of using the website translates into an aversion to the brand. This means that in the absence of UX optimization and actions aimed at providing the user with comfort, the increased traffic using SEO will not translate into a better conversion. So what to improve in the first place?
Website design
Intechnic provides further data saying that as many as 94% of users base their first impressions of the site on its appearance. This includes the artwork, but also layout and clarity. This is very important information that can explain why, despite the increased traffic, the conversion did not improve and the bouncing rate remains high. ⅔ of users in the same survey admit that, having 15 minutes of free time, they would rather spend it on reading attractively visual content than plain, unremarkable text.
Transparency of navigation
There is a difference between what you think your user needs and what your user really needs. This underlines the necessity of one of the core elements of the SXO strategy, which is A / B testing. Example? According to Intechnic's research, if a user uses an internally designed navigation system, only 9% of his activities end as intended by the website creator. With the implementation of a navigation system supported by testing and examining the user behavior model, this value reaches as much as 80%. Heat maps can be a useful tool when designing and testing the navigation system. They help to better understand how users perceive the website.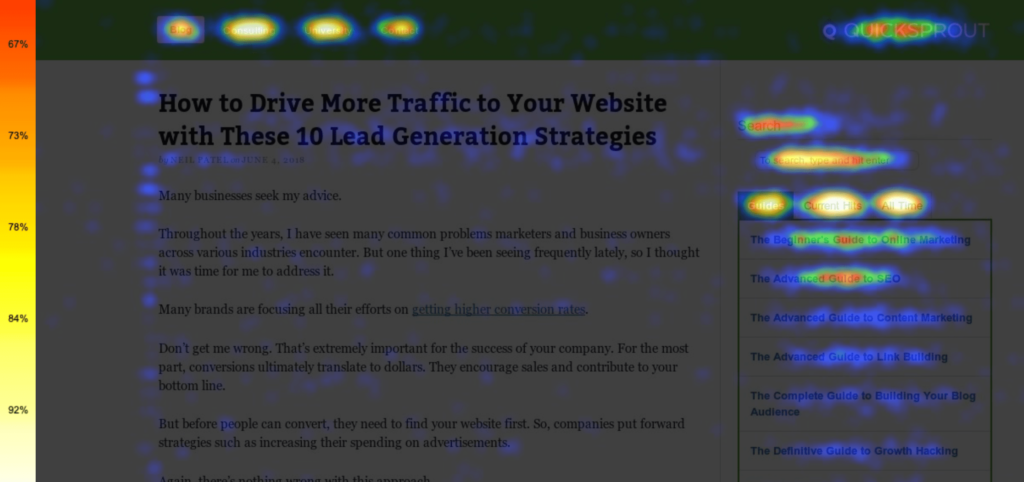 Source: https://www.crazyegg.com/blog/heatmap-tool/
About me page
In many cases, finding the contact details of the website developer is very difficult. This information is completely omitted or located in unintuitive places. However, they are of great importance for increasing the credibility of the website, and thus the feeling of security while using it. Another statistic from Intechnic says that as many as 51% of respondents believe that the lack of a subpage or contact section is the main mistake of many websites, so refining this element can have a huge impact on improving the user experience.
Page Experience Signals – SXO incentive
On the occasion of the upcoming May update of Google algorithms regarding Core Web Vitals and Page Experience signals, it is worth getting acquainted with what they contain. The changes introduced by search engine administrators in this update (scheduled for May 2021) clearly show that SXO has become a natural evolution for regular positioning and without the use of SXO, it will be impossible to achieve satisfactory organic results.
Graphical content loading time (LCP)
The heaviest graphic element on your website should not load longer than 2 seconds. Research carried out by the UserZoom portal shows that as many as 39% of users will resign from using the website if its content does not load quickly enough. Improving this element is therefore particularly important to maintain appropriately high conversion rates. According to the Lighthouse website performance measurement tool, correct and fast loading times account for as much as 25% of its overall score, so it is very important for determining its ranking.
Waiting for interaction (FID)
This is the time that elapses from the moment the user interacts with your website until the moment it starts processing the request. This could be, for example, clicking on a link or a button. To get a good rating from Google, the interaction must not exceed 100 milliseconds. The analysis carried out by the SpeedCurve website confirmed that shorter waiting periods for interaction with the website correlate with better conversion results.
Visual stability (CLS)
This term covers page layout shifts that take place while loading. This can be manifested, for example, by the user clicking the wrong button, because the one he aimed at changed its position during loading. Elements that can cause instability include fonts, graphics, videos, buttons and advertisements. While, according to Lighthouse, CLS is responsible only for 5% of the overall result of the site, neglecting this element may have much greater consequences. One of them is the irritation of users who by clicking (through no fault of their own) on bad elements, will give up using the site.

Source: https://www.oncrawl.com/technical-seo/what-is-cumulative-layout-shift/
Adaptation to mobile devices
As many as 94% of smartphone owners use them first, and not computers, when searching for information. The statistics also emphasize how important it has become to adapt the website to mobile devices. ⅘ the visitors are ready to leave the website, if it is not adapted to the resolution of their displays. Additionally, what matters to them is how quickly its elements load. Website mobility is one of the brightest examples of how SEO and UX work together. It improves the user experience, but is also of great importance in terms of positioning. Especially since indexation of mobile pages has gained priority over desktop versions.
Security
A website with malware, malicious files and similar negligence will, for obvious reasons, not get a good ranking. It exposes users to danger and discomfort. Thanks to the Google Search Console tool, you can check if there are any problems in this area on your website.
HTTPS protocol
Google considers http sites to be inadequately secured and issues appropriate warnings to Internet users before entering such a page. This alone can deter many users. The encrypted https protocol provides better protection and inspires greater trust. His presence has become one of the ranking factors. According to the Search Engine Land research made available via the Blue Corona website, as many as 84% ​​of respondents would resign from transactions on a website whose data transmission is not properly secured. This shows that taking care of this element not only improves the visibility of the page in organic search results, but also significantly increases the chance of a successful conversion.
Full-screen ads
The presence of interstitial ads reduces the comfort of using the website and is therefore penalized by Google. These are ads that cover the searched content, do not have clear closing icons or appear randomly, not as a result of user actions. This does not apply to information of a legal nature, such as cookies or privacy policy. According to John Mueller from Google, bots are able to recognize such pop-ups and ignore them when ranking a page. Again, there is a tendency to relate the ranking factor directly to UX.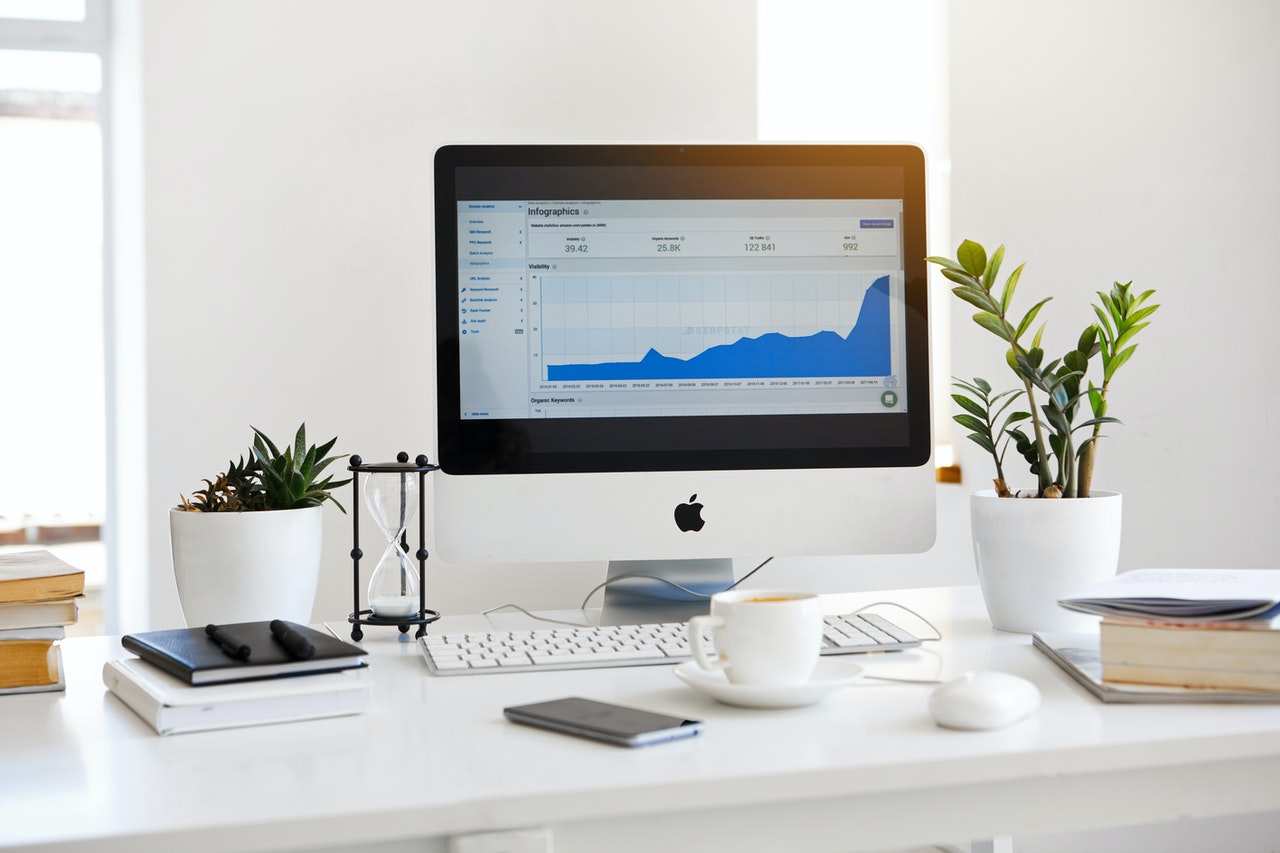 Summary
2020 was a breakthrough for everyone involved in e-marketing. The new conditions dictated by the pandemic resulted in a large increase in competition. As a result, nuances began to count in determining the position of the page. To this should be added algorithm updates, which are clearly aimed at improving UX standards. The above shows that SXO is becoming a standard without which no website positioning strategy can be done. By investing in this type of optimization, you will get not only better results (combining both high traffic and high conversion), but also an advantage over the competition.
Appropriate website structure, errors on the page, correct URL addresses – such issues significantly affect the effectiveness of positioning, therefore the skillful creation of redirects on the website should be one of the important elements of the positioning strategy. However, you should remember about moderation – the lack of redirects is a serious problem, but their excess can also weaken the website. Correctness and optimization of implementation are important in developing User Experience. The smoother, more convenient and easier a given user browses a website, the more time he or she will spend on it and the more likely to return to it. Redirects affect not only website traffic, but conversion as well. Consider online stores – each time a potential customer encounters a 404 error, the chances of it being that he will decide to continue browsing the assortment and the final transaction. It is worth regularly monitoring the operation of the website and checking if all redirects are functioning flawlessly, then we increase our chances of quickly detecting any errors and fixing them before it has a negative impact on the operation and effectiveness of the website.
---
#1 SEO Company in Dubai | Best SEO Agency Dubai, UAE
---
Higher position in Google
You will receive tips on how to improve the position of your website in the search engine such as Bing and Google.
Technical analysis
We will evaluate your website in terms of basic technical parameters related to SEO. Marketing and SEO with Dubaiseo.net
Accessibility for Internet users
You will learn if your website works properly on mobile devices and if it loads quickly. Marketing and SEO with Dubaiseo.net
DubaiSeo.net – Are you looking for the best SEO company in Abu Dhabi and Dubai? you can have best experts for Google and Bing search engine optimization. We are marketing experts in terms of marketing, deliver premium SEO services for their clients in the United Arab Emirates.
Search engine optimization, Marketing, SEO in Dubai
Dubai SEO Team is the main Online Marketing Company in Dubai and generally speaking UAE. We are giving financially savvy and result arranged answers for our customers in Dubai, Abu Dhabi, Sharjah, Qatar, Oman, and so forth. Our high level and excellent web administrations make us recognized from our rivals in UAE market.
SEO in Dubai | Award-Winning SEO Agency in UAE
We have first rated seo agency in the UAE for SEO, PPC, Social Media, and we are Digital Marketing experts in our group who ensure that every one of the tasks are completed in Google, Facebook, Linkedin and an expert manner seo firm with center around further developed ROI for our customers in Dubai.
UAE SEO – website optimization – Positioning in Google and Bing
For 20+ years, Dubai SEO has been delivering superior visibility for websites in Google and Bing in the United Arab Emirates. You would know that Google is UAE's top search engine and we become reliable and experienced and the best SEO company in Dubai, UAE. We are also one of the fastest working Online Marketing agency in the United Arab Emirates. We provide high-end Search Engine Optimization, marketing and social media services in competitive price.
We will check if your website is correctly integrated with Facebook and Google Maps. Marketing and SEO with Dubaiseo.net
Get your free 30 minute strategy session with an experienced digital marketer from Dubai SEO company. Receive a free, no obligation quote!