Tips: Visit our store: You can order an SEO service from our company online, and we will start working on your website much faster. 
---
Fill out the form
and get a free quote!
GET A FREE QUOTE FOR SEO ACTIVITIES FOR YOUR BUSINESS
Leave us a contact to you, and we will call you back and present an offer tailored to the needs of your business.
---
Comprehensive website optimization is an element without which proper positioning cannot be done. Correctly implemented changes make the website function more efficiently, which positively affects the visibility of the domain and directly translates into organic traffic and the number of sessions. Website optimization can be carried out by both specialists and the website administrator completely independently. How to do it step by step?
What is optimization and what exactly is it used for?
Website optimization is a process aimed at improving the technical aspects of a website. The implementation of the changes is to eliminate problems and shortcomings that may adversely affect the position of the website and user experience. As a result – after the implemented optimization – using the website becomes more convenient for users, and search engine algorithms can place the domain in a higher position in the ranking. As a result, the visibility of the website on the web increases, which translates into greater organic traffic, and in favorable conditions, the conversion also increases. It should be mentioned that the correct optimization of the website also positively influences the image of the company whose website is visited by potential customers.
Depending on the type and size of the website, website optimization may take from several to several hundred hours. Each subpage should be analyzed from A to Z to then remove any errors. For online stores with multiple products, optimization will take longer compared to a small business listing. This service may be commissioned to SEO specialists or carried out independently. However, in the case of individual action, one should prepare properly – the most important thing is knowledge of website positioning.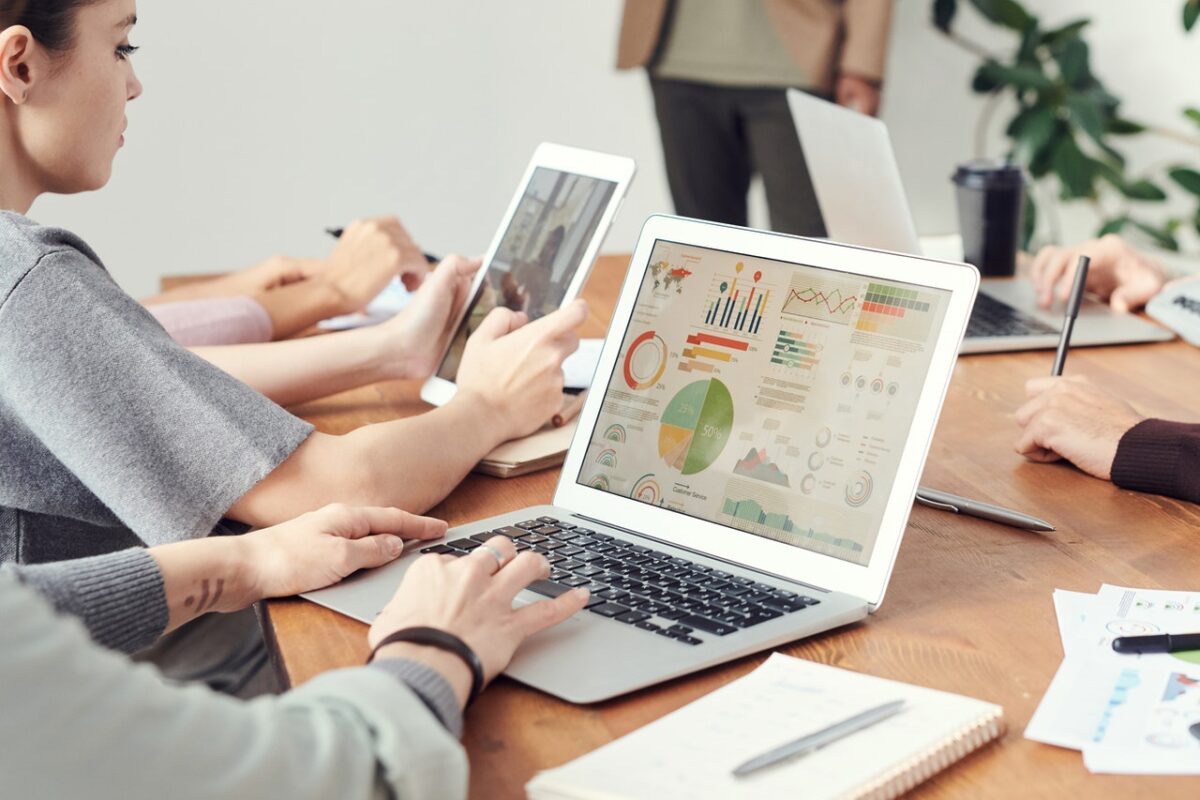 # 1 SEO audit
The step-by-step process of website optimization begins with a meticulous SEO audit. First of all, it is finding all technical errors. It is worth identifying weaknesses that may negatively affect the position of the site in the search engine and user experience (UX). In order to speed up the website audit process, specialized practical tools are used during positioning. Screaming Frog is a popular crawler. SEMSTORM and SEMrush are also useful. When conducting an SEO audit, the following are analyzed:
content on the website (content of key phrases, content layout, uniqueness of texts);
subpage titles and descriptions (meta title and meta description);
headers;
language versions (correctness of their operation);
charging time (on mobile and desktop devices);
responsiveness (correct opening of the website on mobile devices);
graphics (size, alt attribute);
sitemap (the file is up-to-date in Google Search Console);
redirects (e.g. 301, 404);
URL structure (using correct characters, appropriate length);
source code (ordering and shortening);
robots.txt file;
hierarchy of subpages;
canonical tags (correctness of their implementation);
internal linking structure (e.g., stranded page removal).
# 2 Selection of key phrases
Another element of website optimization step by step is preparing the selection of key phrases. It is a good idea to keep this kind of documentation in a spreadsheet. Such a file will significantly facilitate comprehensive optimization, and will also be useful for internal and external linking. In addition, the selection will allow you to avoid the phenomenon of cannibalization of key phrases, which has a negative impact on SEO. By implementing step-by-step optimization of your website, assign words to each URL address for which a given subpage should be displayed in the search engine.
Individual addresses can be optimized for many phrases. However, make sure that a specific phrase is assigned to only one subpage. Then you will avoid the aforementioned cannibalization. When choosing phrases, try to search for words whose positioning will not be too difficult (unless you have extensive knowledge about SEO and a relatively high budget). Then the effects of your actions will appear much faster and will be satisfactory. It's worth thinking about long-tail phrases, or long-tail. These are phrases with low searchability, most often consisting of more than two words. Their competitiveness is low, but the chance of conversion is high. To prepare the selection of key phrases, use specialized tools such as Senuto, SEMrush or SEMSTORM.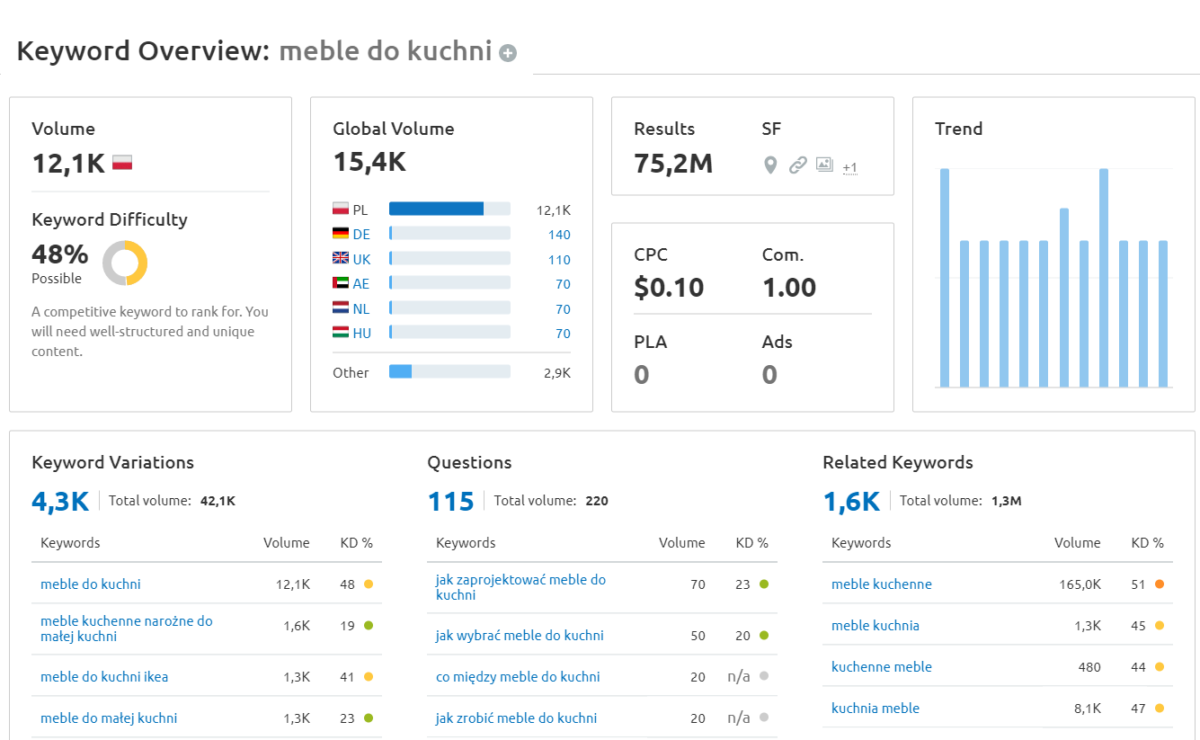 Source: SEMrush. Results for the word "kitchen furniture".
# 3 Technical optimization measures
In the next part of website optimization, step by step, you should eliminate the weak elements of the website that were presented in the SEO audit (meta descriptions, reduced loading time, responsiveness, etc.). Depending on the chosen CMS, such actions can be simple or a bit more complicated. Very often, technical optimization requires editing the source code. SaaS software (software as a service) often does not allow for direct code editing, so optimization in this respect is limited. On the other hand, many possibilities are provided by open source CMS systems (eg WordPress). Therefore, depending on the selected software, sometimes an advanced viewer or the help of specialists may be necessary to implement major optimization changes.
To analyze the quality of a website in terms of on-site, it is worth using the Lighthouse function. It is enough to launch the website in the browser, and then select the "examine element" option by clicking the right mouse button or using the Ctrl + Shift + I keyboard shortcut in the Google Chrome browser. The Lighthouse feature is at the top of the open window. The tool allows you to audit a website in terms of performance, availability or SEO.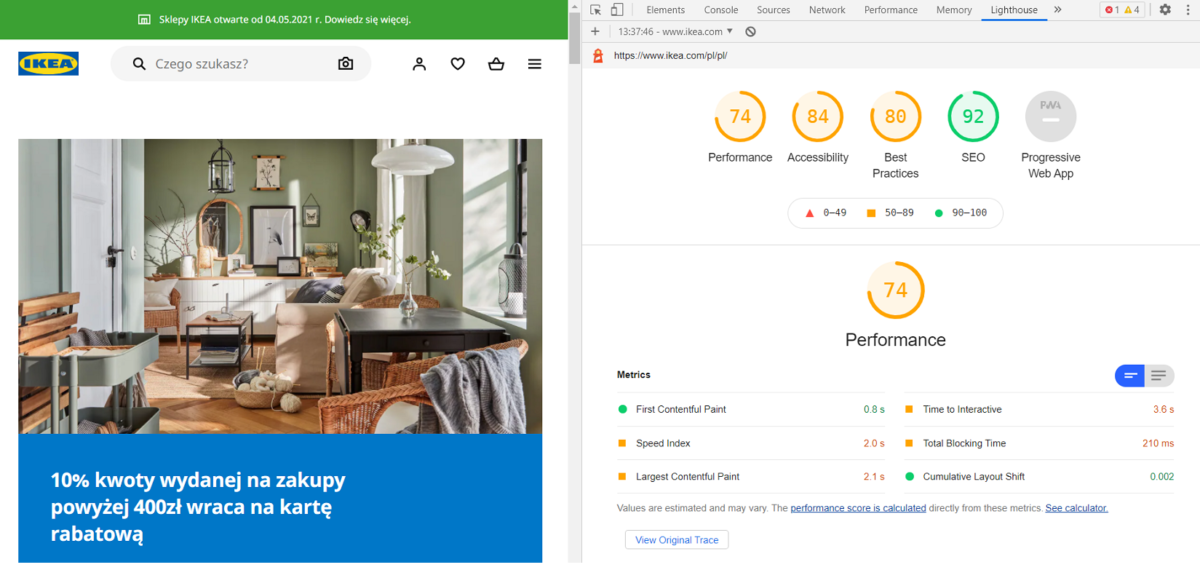 Source: Lighthouse function in the browser – Core Web Vitals results of the Ikea store homepage.
# 4 Content on the page
Content creation and editing is classified as optimization. Content should be prepared in such a way as to combine value for the user with SEO. Therefore, it is currently necessary to create content that is:
in line with SEO principles;
valuable and substantive;
unique.
Content optimization relies heavily on the analysis of existing content. Natural boldness should be used, and sources should be provided when using data, studies and reports. It is also important to properly concentrate key phrases. Different sources give different values, but it is quite optimal to put phrases in the text no more than three times for every 1000 characters with spaces. It is worth getting acquainted with the principles of EAT (Expertise, Authoritativeness, Trustworthiness). These are the guidelines that Google uses when assessing the quality of a website from the content page. By following these rules, you can get better rankings in organic Google search results.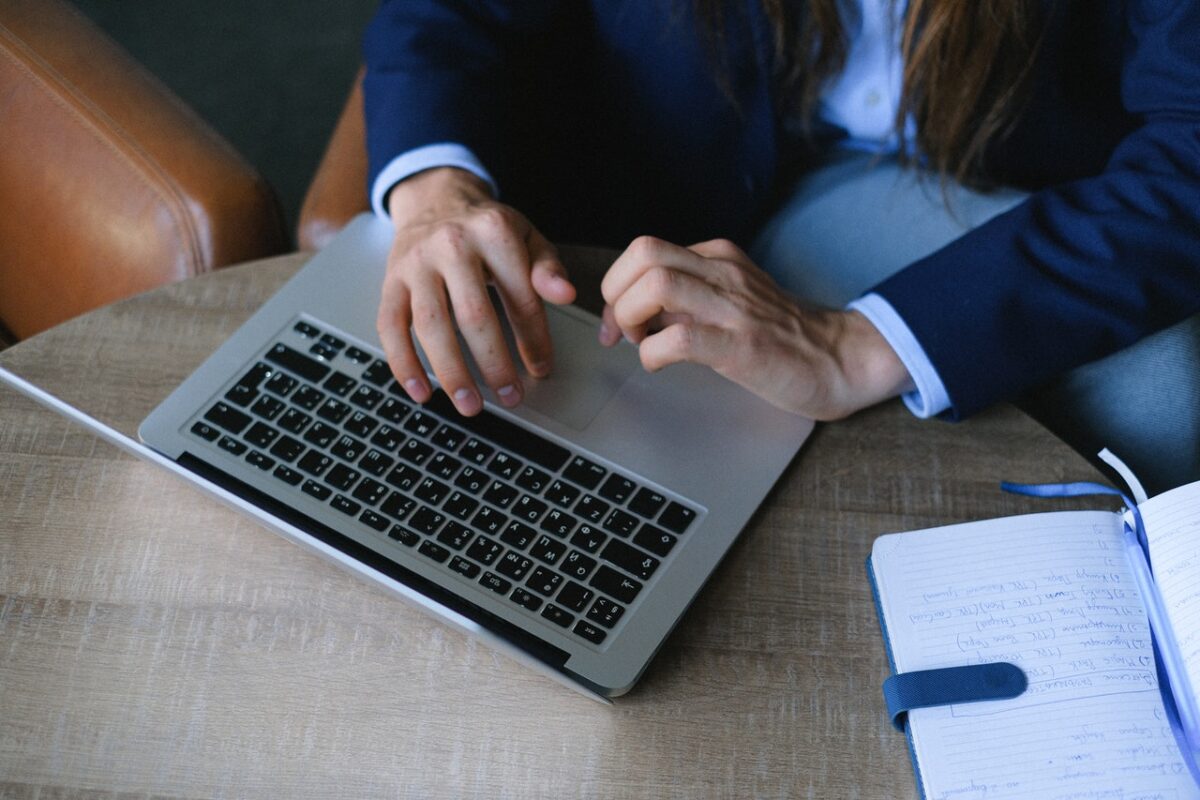 # 5 Internal linking and structure
The fundamental optimization issue is also internal linking with the structure of subpages. The appropriate hierarchy (category tree) allows for better positioning of the page. In addition, users can conveniently navigate the site without having to wander through different URLs. Moreover, internal linking significantly increases the duration of the session. This phenomenon is particularly visible on blog platforms – one article may link to another, thus "retaining" the recipient for longer. SEO is positively influenced by external linking by placing links in anchors. Then the link is hidden in a specific word, for example a keyword phrase. However, keep in mind that the preparation of internal linking must be completely natural and user-friendly.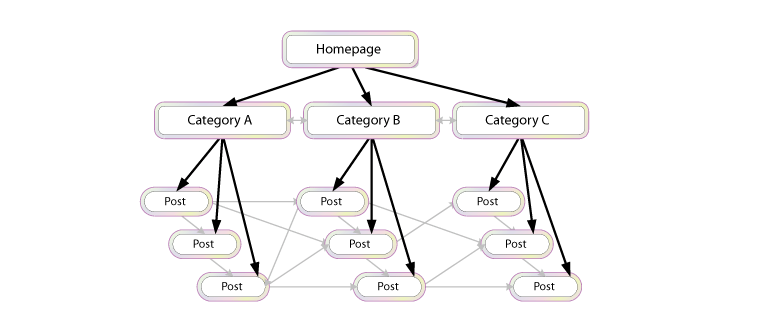 Source: SearchEngineJournal.com – Your Essential Guide to Internal Content Linking.
# 6 Tailoring your website to your users' needs
Each website is created for a specific purpose. Company websites most often present the offer of services, and online stores are designed to sell products. We also distinguish blog platforms, forums and social networking sites. Regardless of the exact website you optimize, remember not only about SEO, but also the user experience (UX).
Verify exactly where the ads fit in the layout and if the sponsorship space is too large. Perhaps the graphic elements overlap, which generates additional problems when navigating the website? Analyze the login and registration panel, the appearance of the comments section (if any), or even the way of filling in the forms. In the Management Decision article, it was shown that even the color of a button can affect how often users use it, thereby completing the conversion. It is for this reason that when optimizing a website step by step, it is worth spending time on issues related to UX. Elements classified as user experience that require special attention are:
information technology (properly selected and optimized CMS system);
interactivity (the way all functionalities on the website work);
methods of communicating with the recipient (contact form, live chat, etc.).
Check: What mistakes can be made while positioning the website on your own?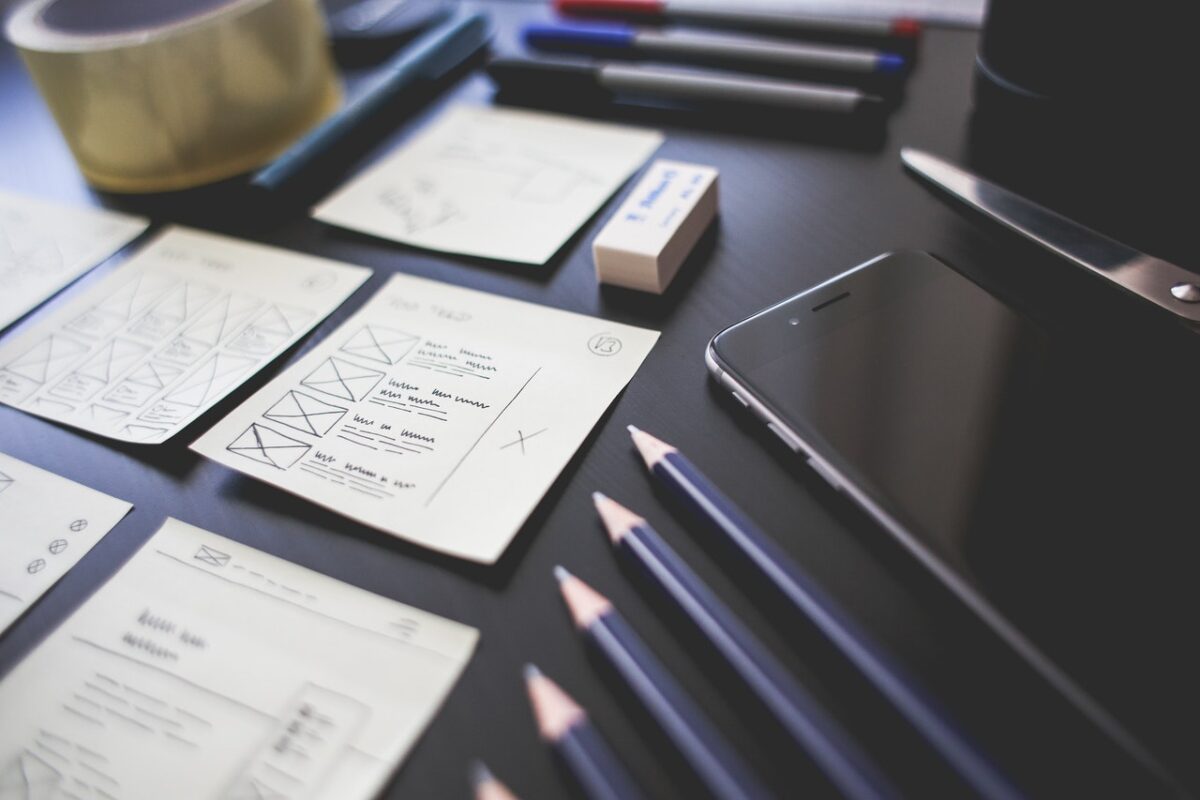 SEO tools used to optimize a website
It is almost impossible to carry out a comprehensive website optimization step by step without specialized tools. This activity requires patience and the use of appropriate software. Depending on the tool, these types of applications may be responsible for the analysis of SEO effects or suggest how to develop a strategy to make the SEO effects as large as possible.
Google Analytics – an absolutely basic tool for analyzing SEO effects. Using the software, the website administrator is able to check how many users visit the domain and its individual subpages. Google Analytics is also used to measure conversion, session duration, and verify the source of traffic. The tool is completely free, and the implementation process is distinguished by its simplicity.
Google Search Console – another free tool that shows data about organic search results. In this way, the administrator will verify when and for which key phrases the website is displayed on Google.
Senuto – software designed to select and monitor the position of key phrases. The perfect solution for the Polish market.
Ahrefs – a powerful tool primarily used to analyze external linking. It is also useful when monitoring key phrases and SEO effects. It has many different functions that each positioner uses.
SEMrush – another perfect tool for selecting key phrases and verifying their competitiveness. However, unlike other similar programs, this one supports multiple languages, which is why SEMrush has made a name for itself among SEO specialists on almost every continent.
Screaming Frog – a crawler useful when optimizing a website. It allows you to verify the structure of the page, easily shows its metadata, canonical links, and also creates XML maps.
Remember that the effects of optimization – like positioning – are not immediately visible. You should wait patiently for the consequences of SEO activities. Regularity and meticulousness are also important. It should also be mentioned that the algorithms of the Google search engine change over time due to updates. For this reason, it is important to monitor the news in order to make appropriate changes, if necessary. Thanks to this, the optimization will guarantee effectiveness and will bring results over time.
Appropriate website structure, errors on the page, correct URL addresses – such issues significantly affect the effectiveness of positioning, therefore the skillful creation of redirects on the website should be one of the important elements of the positioning strategy. However, you should remember about moderation – the lack of redirects is a serious problem, but their excess can also weaken the website. Correctness and optimization of implementation are important in developing User Experience. The smoother, more convenient and easier a given user browses a website, the more time he or she will spend on it and the more likely to return to it. Redirects affect not only website traffic, but conversion as well. Consider online stores – each time a potential customer encounters a 404 error, the chances of it being that he will decide to continue browsing the assortment and the final transaction. It is worth regularly monitoring the operation of the website and checking if all redirects are functioning flawlessly, then we increase our chances of quickly detecting any errors and fixing them before it has a negative impact on the operation and effectiveness of the website.
---
#1 SEO Company in Dubai | Best SEO Agency Dubai, UAE
---
Higher position in Google
You will receive tips on how to improve the position of your website in the search engine such as Bing and Google.
Technical analysis
We will evaluate your website in terms of basic technical parameters related to SEO. Marketing and SEO with Dubaiseo.net
Accessibility for Internet users
You will learn if your website works properly on mobile devices and if it loads quickly. Marketing and SEO with Dubaiseo.net
DubaiSeo.net – Are you looking for the best SEO company in Abu Dhabi and Dubai? you can have best experts for Google and Bing search engine optimization. We are marketing experts in terms of marketing, deliver premium SEO services for their clients in the United Arab Emirates.
Search engine optimization, Marketing, SEO in Dubai
Dubai SEO Team is the main Online Marketing Company in Dubai and generally speaking UAE. We are giving financially savvy and result arranged answers for our customers in Dubai, Abu Dhabi, Sharjah, Qatar, Oman, and so forth. Our high level and excellent web administrations make us recognized from our rivals in UAE market.
SEO in Dubai | Award-Winning SEO Agency in UAE
We have first rated seo agency in the UAE for SEO, PPC, Social Media, and we are Digital Marketing experts in our group who ensure that every one of the tasks are completed in Google, Facebook, Linkedin and an expert manner seo firm with center around further developed ROI for our customers in Dubai.
UAE SEO – website optimization – Positioning in Google and Bing
For 20+ years, Dubai SEO has been delivering superior visibility for websites in Google and Bing in the United Arab Emirates. You would know that Google is UAE's top search engine and we become reliable and experienced and the best SEO company in Dubai, UAE. We are also one of the fastest working Online Marketing agency in the United Arab Emirates. We provide high-end Search Engine Optimization, marketing and social media services in competitive price.
We will check if your website is correctly integrated with Facebook and Google Maps. Marketing and SEO with Dubaiseo.net
Get your free 30 minute strategy session with an experienced digital marketer from Dubai SEO company. Receive a free, no obligation quote!