Tips: Visit our store: You can order an SEO service from our company online, and we will start working on your website much faster. 
---
Fill out the form
and get a free quote!
GET A FREE QUOTE FOR SEO ACTIVITIES FOR YOUR BUSINESS
Leave us a contact to you, and we will call you back and present an offer tailored to the needs of your business.
---
Table of Contents:
Why is competition analysis performed?
What tools should be used when analyzing the competition?
What is worth comparing?
Analysis of the competition in Senuto
SEO Competition Analysis – Or Only?
Competition analysis in the case of positioning business pages is necessary to set goals and create an SEO strategy. Without knowing the strengths and weaknesses of competitors, it is difficult not only to create better competition, but also to decide on specific stages of marketing activities, consisting in increasing visibility. Verification of the position in Google of companies from the same industry, key phrases they use and positioning methods is the basis that should be combined with the SEO audit. It allows you to compare yourself to the competition, learn about the elements that need improvement. How to perform a competition analysis to make it the basis of an effective positioning strategy? Read the text and find out!
Why is competition analysis performed?
SEO competition analysis allows you to verify which key phrases other companies from the same industry position themselves on and what visibility they gain through their activities. It is possible to verify what mistakes the competition is making in positioning and you can effectively avoid them from the beginning of positioning to stay ahead of other brands. Find out how you can perform a competitor analysis.
What tools should be used when analyzing the competition?
Free Google tools will allow you to analyze only your website, therefore it will be necessary to use paid tools that will allow you to research your competitors' websites. One of the best competition analysis tools is the aforementioned Ahrefs. However, you can do the same with other systems. These include, among others: Moz, Senuto, SEMrush. It is best to choose competition analysis tools that will also help you in other SEO activities.
Step-by-step analysis of the competition
At the very beginning, an SEO audit of your own website is performed, thanks to which you can later compare it with the competition's websites, and plan activities for several months. It also allows you to estimate the budget for positioning and determine which phrases are profitable and in what order it is worth building visibility for keywords. Find out what elements follow each other during a thorough SEO analysis of the competition.
Who is your competition?
Before the analysis, the direct competition is determined. Brands from the same industry are compared that are direct rivals. During the verification, both companies that position themselves well on general words, long tail, but also conduct effective local positioning are taken into account. When verifying the competition, it is worth excluding brands that are not realistic in business terms – these will often be industry portals. In addition, competition should also be verified according to the size of the business. If you have a small business, it will not be profitable to fight for the overall position for a given phrase with a giant with a budget several times larger. The process of selecting brands for SEO competition analysis takes a long time, but only the correct performance of this action guarantees finding real competitors.
How is your competition positioning?
After creating a list of competing companies, you need to research the positioning data of their sites. To do this, you can use a variety of tools that will allow you to examine the most important indicators. One of them is Ahrefs, which allows you to create a list against which the most important data will be compared.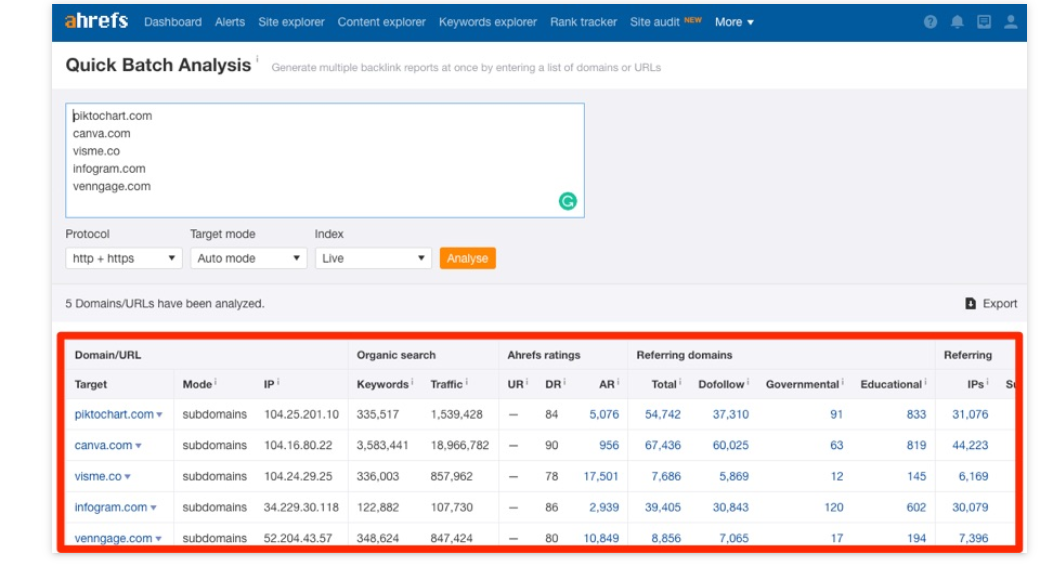 Source: https://ahrefs.com/blog/competitive-analysis/
It is worth analyzing the website traffic, the number of incoming links as well as their DR profile. One important step will be to analyze the sources of links that lead to your competitors 'sites, as well as how your competitors' link building changes over time.
What is worth comparing?
There are several elements that form the basis of positioning activities. So let's compare them between the competition and your website. Thanks to this, you can get information on why other companies have better search engine rankings. Check the meta descriptions and compare how they are built by the competition. Maybe it has a better Call To Action or enters key phrases in a more professional way? Also compare the loading speed of pages on computers and mobile devices, and check if your competitors' websites are adapted to mobile devices. First of all, compare competitors' websites that have higher positions in the search results for keywords that you particularly care about. Carefully check the pages that rank for important phrases one or two places higher than your brand. Compare both the high-order headers (H1, H2) and the lower ones.
Check how the competition weaves phrases into them and how many of what elements they use. Also compare the length of the texts, URLs, as well as how the navigation on the competitors' websites looks like. What is especially worth paying attention to? After verifying the basic elements listed above, it is worth focusing more on the analysis of what is on the competitors' websites. Content analysis and answering the question of what group of recipients they are addressed to, whether they are of high quality, how they are created and whether they are willingly commented on, will bring a lot of conclusions. Answering such questions allows you to easily compare it to your own content strategy and introduce changes that will allow you to be higher than your competitors. Positioners often verify whether the competition uses Black Hat SEO methods. Knowing that the industry is using techniques that Google does not recommend gives you confidence that sooner or later such sites will be punished.
Analysis of the competition in Senuto
Senuto allows you to prepare a competition analysis in terms of the most important parameters. Before you compare, however, you need to find and specify your competition. Once you have found the sites you want to chase away among the search results, you can start analyzing in Senuto. Thanks to this, you can observe common and different keywords, i.e. you will define phrases that you use and that the competition does not. In addition, you will learn about the phrases that are missing when positioning your website and check if you have keywords that connect you and the competition.
After comparing key phrases, you can then verify their difficulty, as well as see what other websites from the highest Google positions use these phrases for positioning. Thanks to such analysis, you can compare specific subpages and verify them not only in terms of SEO optimization, but also verify aspects related to the aesthetics of the website and UX. Make sure to do link analysis as off-site activities are also extremely important when building your position on Google.
Weaknesses that should be exploited
A good method is to find weaknesses, but also errors in the actions of the competition. Perhaps their sites have a lot of broken links, have duplicate content or are facing cannibalization? Check all the SEO aspects and find things you can do better. Such verification will also allow you to verify what your website is weak at. This makes it possible to become aware of the elements that absolutely need to be improved. Check what your shortcomings are and verify if the competition has disadvantages that will allow you to gain an advantage.
Adjustment to real possibilities and budget
If you are already after a thorough analysis of the competition, then assess the budget that will be required for activities that will allow you to outrun other companies in the search results. Estimate how much content will cost you, creating effective linking, changes in the website's UX, navigation, code improvement or speed. Estimate which phrases will be more expensive for you and choose those that have high traffic, but do not have high competition. After establishing your exact strategy, you can start working. First of all, after these actions, optimize your website for SEO in terms of search engine robots. Then, in accordance with the positioning strategy, implement the next activities, but do not leave the competition research. It can be effective when it notices that you are conducting effective activities to improve your positions.
SEO Competition Analysis – Or Only?
Researching the competition in terms of SEO can also be useful in other marketing activities. If you want to refine such elements as, for example, matching groups of recipients of a product or services, you can compare your own actions and those of your competitors. Check how other brands address the audience, whether they create guides and in what language they write them. They direct their words to specific people, or maybe they create content only for Google robots? Based on such information, you can, for example, expand or reduce your target audience for your products and services. It will also be easier for you to create paid advertising campaigns and decide in various ways to attract a potential customer.
Maybe you will add additional sections to your website, such as a FAQ, or start creating content that is most useful. They can be typically guides, news or informative. Remember that SEO competition analysis is a source of extremely important information that will support positioning activities, but also those in the field of UX, navigation, content creation or even the language of communication with customers.
Sources:
Appropriate website structure, errors on the page, correct URL addresses – such issues significantly affect the effectiveness of positioning, therefore the skillful creation of redirects on the website should be one of the important elements of the positioning strategy. However, you should remember about moderation – the lack of redirects is a serious problem, but their excess can also weaken the website. Correctness and optimization of implementation are important in developing User Experience. The smoother, more convenient and easier a given user browses a website, the more time he or she will spend on it and the more likely to return to it. Redirects affect not only website traffic, but conversion as well. Consider online stores – each time a potential customer encounters a 404 error, the chances of it being that he will decide to continue browsing the assortment and the final transaction. It is worth regularly monitoring the operation of the website and checking if all redirects are functioning flawlessly, then we increase our chances of quickly detecting any errors and fixing them before it has a negative impact on the operation and effectiveness of the website.
---
#1 SEO Company in Dubai | Best SEO Agency Dubai, UAE
---
Higher position in Google
You will receive tips on how to improve the position of your website in the search engine such as Bing and Google.
Technical analysis
We will evaluate your website in terms of basic technical parameters related to SEO. Marketing and SEO with Dubaiseo.net
Accessibility for Internet users
You will learn if your website works properly on mobile devices and if it loads quickly. Marketing and SEO with Dubaiseo.net
DubaiSeo.net – Are you looking for the best SEO company in Abu Dhabi and Dubai? you can have best experts for Google and Bing search engine optimization. We are marketing experts in terms of marketing, deliver premium SEO services for their clients in the United Arab Emirates.
Search engine optimization, Marketing, SEO in Dubai
Dubai SEO Team is the main Online Marketing Company in Dubai and generally speaking UAE. We are giving financially savvy and result arranged answers for our customers in Dubai, Abu Dhabi, Sharjah, Qatar, Oman, and so forth. Our high level and excellent web administrations make us recognized from our rivals in UAE market.
SEO in Dubai | Award-Winning SEO Agency in UAE
We have first rated seo agency in the UAE for SEO, PPC, Social Media, and we are Digital Marketing experts in our group who ensure that every one of the tasks are completed in Google, Facebook, Linkedin and an expert manner seo firm with center around further developed ROI for our customers in Dubai.
UAE SEO – website optimization – Positioning in Google and Bing
For 20+ years, Dubai SEO has been delivering superior visibility for websites in Google and Bing in the United Arab Emirates. You would know that Google is UAE's top search engine and we become reliable and experienced and the best SEO company in Dubai, UAE. We are also one of the fastest working Online Marketing agency in the United Arab Emirates. We provide high-end Search Engine Optimization, marketing and social media services in competitive price.
We will check if your website is correctly integrated with Facebook and Google Maps. Marketing and SEO with Dubaiseo.net
Get your free 30 minute strategy session with an experienced digital marketer from Dubai SEO company. Receive a free, no obligation quote!