Tips: Visit our store: You can order an SEO service from our company online, and we will start working on your website much faster. 
---
Fill out the form
and get a free quote!
GET A FREE QUOTE FOR SEO ACTIVITIES FOR YOUR BUSINESS
Leave us a contact to you, and we will call you back and present an offer tailored to the needs of your business.
---
Table of Contents:
Choosing key phrases – why is it important?
Keyword search methods without historical data
How to choose the right phrase for the subpage?
Appropriate selection of keywords is the basic element of website positioning . Without completed phrases, it is difficult to effectively increase visibility and organic traffic. There are many methods of searching for keywords, usually analytical tools that use historical data are used for this. However, these applications are almost always paid. Therefore, it is worth knowing that the keyword search can be carried out without being based on historical data, for free.
Choosing key phrases – why is it important?
The Google search engine "doesn't know" what exactly is on a webpage until the human prepares the appropriate directions. Therefore, in SEO, the technical optimization of the website is a key element. A properly designed website with substantive content clearly informs the search engine what a specific subpage presents. In achieving this goal, key phrases help: they are signposts for Google robots and people. Thanks to them, the domain can achieve greater visibility and organic traffic. On the other hand, a website without properly selected words will not be displayed on users' queries. In e-commerce, properly selected key phrases can significantly increase sales, as subpages with products will start to achieve higher positions in the search engine.Searching for keywords is finding out what exactly your audience is looking for. Then, the website should be optimized in such a way that the user receives a clear and complete answer to a specific query.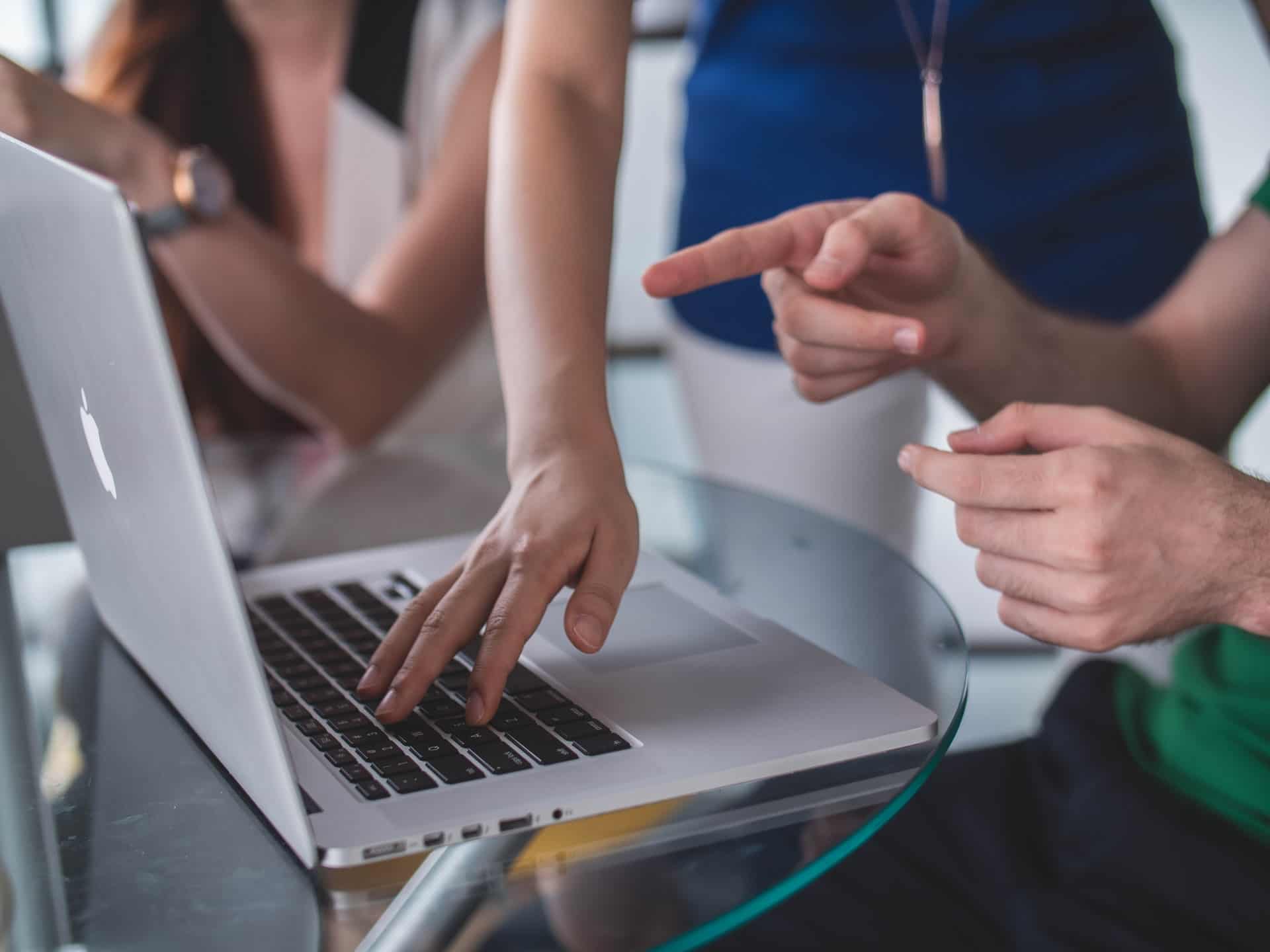 Keyword search methods without historical data
In the official " Search On 2020 " announcement, Google indicates that about 15% of all queries are phrases and terms that have never been searched for. This statistic reflects the importance of appropriate keyword searches . Matching phrases to the needs of users can significantly increase organic traffic. There are several methods of selecting such words without access to historical data.
Answer The Public
A simple and quick way to search for keywords is with Answer The Public . The application automatically searches for queries that may match the Google search engine. Just enter any phrase, then select the appropriate language. The tool will combine a specific word with pronouns, prepositions, conjunctions, etc. Then you just need to select those that seem particularly valuable.
Source : Answer The PublicSee: Google Tag Manager – practical SEO tips
Similar questions, or "People Also Ask"
The source of information about the phrases is Google itself. When searching for keywords , use the box with similar questions (People Also Ask). It is a place that displays hints that may be of interest to the Internet user. The downside of this solution, however, is its specificity: the box is relatively rarely displayed on the search list in Polish, and if it is, then only for popular issues. Treat the information in the box with similar questions as inspiration. The terms found there should not be copied.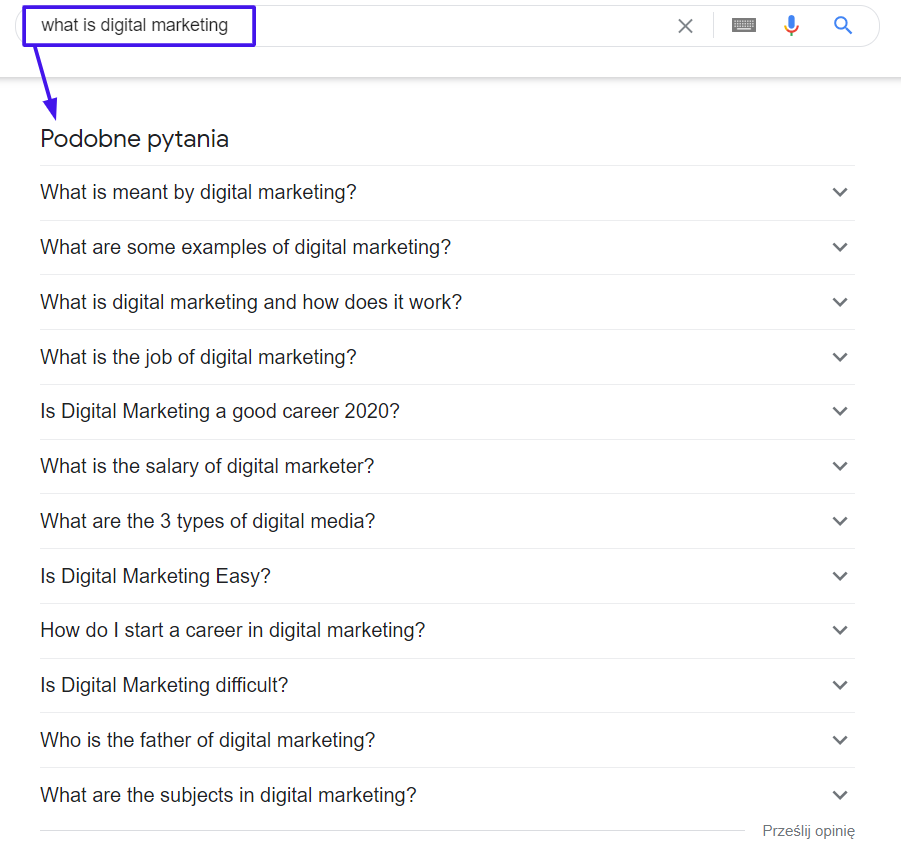 Source : People Also Ask
Related searches
Related searches are suggestions prepared with the users in mind. This part is an inspiration when searching for keywords without historical data. Proposed inquiries can be placed in the previously mentioned Answer The Public in order to generate further terms related to a specific industry. There is one more way to analyze "similar searches" on Google. Use this url:
https://suggestqueries.google.com/complete/search?output=toolbar&hl=&gl=uk&q=
However, at the very end, after the "q =" signs, you must enter the query that interests you. For example, "q = sofa + to + lounge". Then the tool will return similar results useful when searching for key phrases.
Breadcrumbs on your site
In e-commerce, keywords can be elements included in the breadcrumbs (menu segments on the page) and various variations of the expressions there. Use them in Answer The Public and analyze similar searches. Breadcrumbs phrases can also go to Google's Keyword Planner.
Keyword planner
Google's Keyword Planner bends the rules for historical data a bit, as it displays information about the "average monthly number of searches" for a specific phrase, meaning that it uses statistics collected in the past. However, the tool is free and effective, so every website owner must know it. The planner is mainly used to analyze how effective a particular advertising campaign can be in Google Ads. The "Meet new keywords" functionality consists of two options. The first one allows you to enter different phrases on your own, and then learn their variations. The second one is based on analyzing a specific URL, then returning a list of related words. Both solutions are effective and can present a lot of useful data.
Synonyms of key phrases
Using special tools to generate synonyms can also prove effective. It is not a direct solution, but with a bit of luck and creativity, each person is able to prepare their own list of key phrases. This tool is especially useful when looking for nouns.
Generating suggestions
An alternative to the previously mentioned Answer The Public is the Soolve tool , which works on a similar principle. Just enter any words, then the application will display related phrases that can be useful in Google, YouTube and in search engines such as Yahoo or Bing.
Source : Soolve
How to choose the right phrase for the subpage?
Search keywords must be tailored to the needs of users, while remaining consistent with what the subpage presents. A user searching for the phrase "laptop up to AED 3,000" is looking for a specific product group and is probably ready to complete the purchase. Such a person will not be interested in an article on how to install a system or format a laptop. Using the phrase "laptop up to PLN 3,000" in the text on disk defragmentation will also not be the best idea.
A fundamental part of searching and selecting keywords is also sorting them according to which subpages they are matched to. Thanks to this, the website owner who conducts the optimization himself will not perform the so-called cannibalization of phrases. It is a phenomenon where more than one subpage is displayed in the search engine for a specific phrase. Thanks to the Site Diversity Updatethe algorithm tries to display only a single address – the one that will be stronger and better suited to the user. Although in practice it happens that Google displays more subpages of the same domain, cannibalization is not SEO friendly and should be categorically avoided. Ignoring the problem can lead to a significant drop in conversion: users will visit the page but not necessarily find what they are looking for, so they will exit quickly, increasing the bounce rate. Cannibalization of key phrases does not take place on those pages that have been properly optimized and have proper linking (external and internal).
It is worth starting the selection of phrases for subpages in the spreadsheet. Each URL address should be assigned unique keywords that will not be repeated on any other line. This way, the website owner will not be exposed to the problem of cannibalization already at the optimization planning stage.
Such a list is useful throughout the period of running an online business, so it is worth saving it, and in the future (when new subpages appear), it should be modified accordingly. This solution is also helpful during link building campaigns. The list will always tell you which anchor to link the URL with, so that the results are the best. Any crawler, for example Screaming Frog or DeepCrawl , will be used to generate the list of subpages . Alternatively, the website owner can do this manually.
One subpage can be optimized for many key phrases. In this context, the positioner and / or owner of the website have no restrictions. Usually, however, a few particularly valuable phrases are selected to generate traffic. The greater the number of keywords, the more links it is necessary to obtain – also the content on subpages should be a bit longer, because it must contain positioned phrases. The subpages are selected for such phrases that are most often searched by users. However, such words are highly competitive, so their positioning requires more time and knowledge. The more popular the word is, the more websites want to use it to rank high, thereby generating valuable traffic. Here is an example:
Laptop: 1,480,000,000 Google results – approximately 70,000 searches per month;
Gaming laptop: 2,060,000 Google results – about 9,000 searches per month;
Office laptop: 31,600 Google results – about 1,000 searches per month.
When searching for keywords without being based on historical data, the priority is not only to find appropriately matched phrases, but also to carefully select them. Then, the collected phrases should be assigned to appropriate subpages so that users can find exactly what they are looking for within the site. New sites and stores often use long tail phrases. These are longer phrases consisting of a few words. They are relatively often searched by the community, but at the same time their competitiveness is lower, which speeds up the positioning process.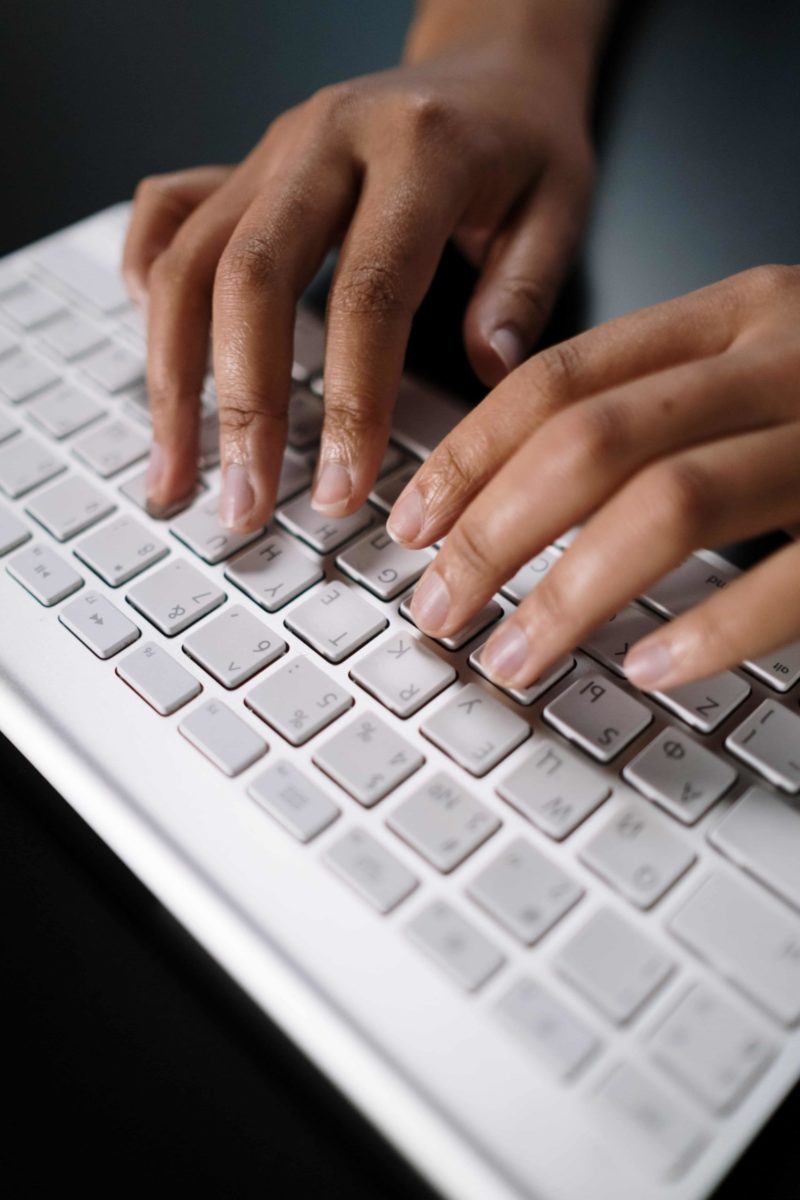 Also Check Abu Dhabi SEO
Appropriate website structure, errors on the page, correct URL addresses – such issues significantly affect the effectiveness of positioning, therefore the skillful creation of redirects on the website should be one of the important elements of the positioning strategy. However, you should remember about moderation – the lack of redirects is a serious problem, but their excess can also weaken the website. Correctness and optimization of implementation are important in developing User Experience. The smoother, more convenient and easier a given user browses a website, the more time he or she will spend on it and the more likely to return to it. Redirects affect not only website traffic, but conversion as well. Consider online stores – each time a potential customer encounters a 404 error, the chances of it being that he will decide to continue browsing the assortment and the final transaction. It is worth regularly monitoring the operation of the website and checking if all redirects are functioning flawlessly, then we increase our chances of quickly detecting any errors and fixing them before it has a negative impact on the operation and effectiveness of the website.
---
#1 SEO Company in Dubai | Best SEO Agency Dubai, UAE
---
Higher position in Google
You will receive tips on how to improve the position of your website in the search engine such as Bing and Google.
Technical analysis
We will evaluate your website in terms of basic technical parameters related to SEO. Marketing and SEO with Dubaiseo.net
Accessibility for Internet users
You will learn if your website works properly on mobile devices and if it loads quickly. Marketing and SEO with Dubaiseo.net
DubaiSeo.net – Are you looking for the best SEO company in Abu Dhabi and Dubai? you can have best experts for Google and Bing search engine optimization. We are marketing experts in terms of marketing, deliver premium SEO services for their clients in the United Arab Emirates.
Search engine optimization, Marketing, SEO in Dubai
Dubai SEO Team is the main Online Marketing Company in Dubai and generally speaking UAE. We are giving financially savvy and result arranged answers for our customers in Dubai, Abu Dhabi, Sharjah, Qatar, Oman, and so forth. Our high level and excellent web administrations make us recognized from our rivals in UAE market.
SEO in Dubai | Award-Winning SEO Agency in UAE
We have first rated seo agency in the UAE for SEO, PPC, Social Media, and we are Digital Marketing experts in our group who ensure that every one of the tasks are completed in Google, Facebook, Linkedin and an expert manner seo firm with center around further developed ROI for our customers in Dubai.
UAE SEO – website optimization – Positioning in Google and Bing
For 20+ years, Dubai SEO has been delivering superior visibility for websites in Google and Bing in the United Arab Emirates. You would know that Google is UAE's top search engine and we become reliable and experienced and the best SEO company in Dubai, UAE. We are also one of the fastest working Online Marketing agency in the United Arab Emirates. We provide high-end Search Engine Optimization, marketing and social media services in competitive price.
We will check if your website is correctly integrated with Facebook and Google Maps. Marketing and SEO with Dubaiseo.net
Get your free 30 minute strategy session with an experienced digital marketer from Dubai SEO company. Receive a free, no obligation quote!