Tips: Visit our store: You can order an SEO service from our company online, and we will start working on your website much faster. 
---
Fill out the form
and get a free quote!
GET A FREE QUOTE FOR SEO ACTIVITIES FOR YOUR BUSINESS
Leave us a contact to you, and we will call you back and present an offer tailored to the needs of your business.
---
Are you going to open an online store or are you already an e-commerce owner and want to strengthen your position in the market? Check what may turn out to be your competitive advantage and focus on market research in the SXO strategy.
Why is a good SXO strategy especially important today? In mid-June 2021, the implementation of Google Page Experience Update begins , which focuses on the quality of user experience with the website. However, perfect UX is not everything. The largest Polish online stores generate 30-70% of traffic that comes from organic search results. In this article, you will find tips and case studies that will help you do market research in your SXO strategy and increase the chance of successfully reaching your customers.
The potential of e-commerce in Poland
Senuto examined Polish e-stores in 2021 in 2067. It turned out that over 60% of them do not conduct active content marketing activities, and only 5% of native e-commerce sites publish how-to content. And these allow you to reach potential customers, encourage them to buy on the shopping path and build brand awareness. If the content is substantive and consistent with the intention of the users, you will stand out from the competition.
There is something to fight for, as the Polish e-commerce market is developing very dynamically. According to research by Ecommerce Europe, the growth rate of Polish online trade remains at the level of over 31% , i.e. it is two and a half times higher than in Europe. It is estimated that this trend will continue and gradually increase, with online trading becoming a major part of retail sales. Analysts estimate that in 2021 the value of the e-commerce market will reach 12% of the total retail sales, and in 2023 it will be 16%.
According to the Gemius report "E-commerce in Poland 2020" from mid-2020, as many as 73% of internet users shopped online . Compared to 2019, their number increased by 11 percentage points. In 2020, Poles made e-purchases, the value of which amounted to EUR 15.3 billion.
Content and SEO in e-commerce
According to IBM, as a result of the pandemic, the development of e-commerce has accelerated by at least 5 years. At the same time, increasing competition means that the use of traditional SEO methods in e-commerce may be insufficient. If you want to achieve an increase in organic results, you need to optimize the user experience.
Search engines such as Google learn every day how to match search results to the expectations of users and provide them with the desired information. Therefore, your marketing efforts are evolving – turn to a strategy that will allow you to focus on the end user and to a lesser extent on the search engine. This will help drive your marketing efforts more efficiently.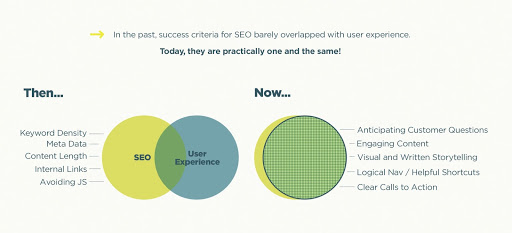 Source: https://www.linkedin.com/pulse/what-experiential-seo-hussein-ebied/
How to build organic traffic in the store? SEO potential
91% of users make purchases in a given e-store via Google. SEO is therefore the "driving force" of e-commerce sales. Most of us seem to understand this, but in fact it hardly touches upon it. Did you know that a website has a CTR of 28.5% in the first place in search results and only 2.5% in 10th place? This proves that SEO really matters for conversions (and more). What to look for in content marketing e-commerce?
SEO strategy
Customer journey in content marketing is the sum of experiences connecting the user and the brand. Check if your content is tailored to the customer at each stage of the shopping path. Pay attention to what your competition is offering at the same time . How is it perceived by the user? Is content not duplicating? Research the phrases your competitors rank for and look for your niche.
Customer journey: stages
The customer path is based on several stages:
awareness phase (awareness) – the user is aware that he needs a specific product or service.
consideration phase – reflects on the purchase – compares reviews and models.
acquisition phase – makes a purchase.
service phase – uses the product.
loyalty phase – the customer recommends a product or buys another one.
Content marketing: build a competitive advantage
Only 38% of Polish e-stores conduct active content marketing activities . How-to articles work best, as they allow you to reach potential customers, build brand awareness and encourage them to buy.
84.5% of stores contain only 10-100 articles on the website , so your chance to build an e-commerce marketing strategy using content increases.
How to create e-commerce content compatible with SEO?
SEO traffic is of course strongly related to the industry in which the store operates. Senuto's research indicates that most e-commerce advisory articles are viewable in less than 10 phrases . SEO in content marketing is therefore another gap to be managed.
rather short articles work well (PLN 1000-4000), but the demand for very long texts (over PLN 10,000) is also growing,
the average length of articles depends on the industry,
there is no relationship between the store's position in the search engine and the length of the texts on the blog (the ranking position does not depend on the length of the content),
the optimal length of the meta title tag, which is the title of the page, is 600 pixels, or approx. 50-60 characters. In the case of meta description, it is 155-160 characters,
Most of the meta title and meta description tags are prepositions, pronouns or adverbs (like, check, adverbs (like, check what, etc.).
Below you can check what it looks like in individual industries.
UX: How to Improve Customer Experience?
In 2020, there was uncertainty about sales on the e-commerce market. The negative scenarios did not materialize, however, and sales increased significantly in some sectors. These include primarily services related to health care, cleaning products, the food industry, and the bicycle industry. Sectors related to all events, the tourism, wedding and clothing industries (especially formal clothes) suffered the most.
UX: what to pay attention to?
The landing pages that customers visit are the key. How to improve their experience?
are the pages consistent with the intention of the users?
how fast is the page loading?
what do UX / UI elements look like on it?
How does the mobile version of the website look like?
emphasis on Web Core Vitals factors.
Web Core Vitals: what is the implementation?
Web Core Vitals are, in free translation, key internet indicators that are of great importance for the speed of loading websites and positioning . The planned update will cover the look and feel of the websites. Google will distinguish websites that are attractive to users, especially taking into account parameters such as:
Largest Contentful Paint (LCP) : Measures loading efficiency. To ensure a good user experience, LCP should occur within 2.5 seconds of the first page load (upper limit is 5 seconds). Pay attention to such page elements as product photo loading time – does it load by name, price or description? When is the cookie message loaded and what is the overall response time of the server? To improve LCP, compress files, remove unused JavaScript.
First Input Delay (FID) : measures the interactivity, and more specifically, the interaction of the user with the website. To ensure a good user experience, pages should have an FID of 100 milliseconds or less. It is worth applying the optimization of the code necessary to load the key elements of the website.
Cumulative Layout Shift (CLS) : measures the visual stability of a page. If you plan to ensure a good experience for your website, your pages should keep a CLS of 0.1. or less. Check that the page loads correctly on all devices. When some elements of the layout move or load with a delay, the ratio increases and lowers the pleasure of using it.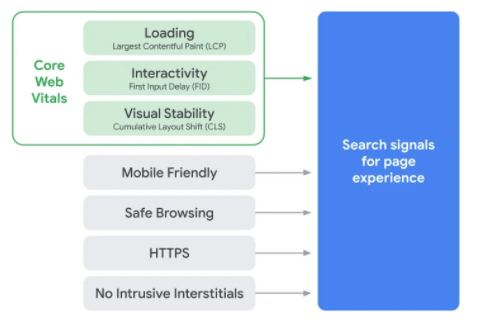 Source: https://alchemyleads.com/core-web-vitals-how-to-improve-mobile-pagespeed-cwv/
Google Search Performance Report
The implementation of Web Core Vitals in Search Console is a combination of the current basic internet metrics, HTTPS security, the lack of visibility of annoying full-screen ads, the status in the Safe Browsing service and adaptation to mobile devices. In addition, more statistics have been introduced, i.e. a parameter in the form of the percentage of URLs of pages that work efficiently, can boast of a good appearance and the ability to check the performance of websites (the number of views in the search engine depending on the specific measurement time). This data can be filtered and compared well-functioning and well-designed pages on the same site.
Core Web Vitals indicators can be measured using Google Search Console , Page Speed ​​Insigths , Web Vitals, i.e. extensions for the Chrome browser or Chrome Dev Tools .
Better user experience on the site and conversions
Better user experience is part of your online success – customer engagement and improved page performance will lead to increased website conversions.
Focusing on the customer's intentions assumes that the purchasing path resembles a changing set of needs, questions and emotions. The trick is to bring about the conversion in this evolving puzzle. This goal can be achieved by combining search engine optimization ( SEO ) with optimization of the elements in terms of usability and user accessibility. Below is a case study that illustrates the issue well: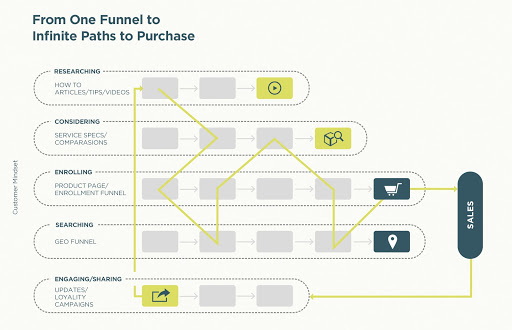 Source: https://www.linkedin.com/pulse/what-experiential-seo-hussein-ebied/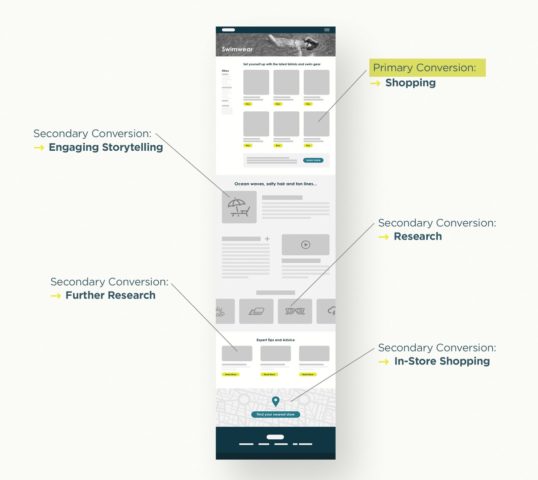 Source: https://www.linkedin.com/pulse/what-experiential-seo-hussein-ebied/
Optimizing Your User Experience: What Else Can You Do?
Shorten the page loading time . Make sure that users (including those who have never been to the site) immediately know how to navigate on it. The user should be able to achieve his goal of the visit, and the structure and architecture of the website should not be an obstacle.
Customize navigation and search functionality on both desktop and mobile devices . Also remember about non-standard screen proportions and weaker smartphones or connections.
Good design is worth its weight in gold . The user sees this element immediately, so it is worth focusing on an interesting appearance, colors and legibility. You will gain the attention of users and their loyalty to the site.
Interesting content that you want to read . Properly adjusted to the target group, which are in line with the real needs and problems of users. What matters is content inextricably linked with SEO.
Building trust on the website by adding ratings, customer recommendations etc.
Designing a contact form with the customer in mind . Ensuring a clear layout of information on product cards and category cards.
Planning tests using selected tools, such as Hotjar, Google Optimize or proprietary tools.
Market research in SXO strategy
SXO is a continuous process of searching for new opportunities to improve and update content and offer a better user experience. You can add technical SEO, Web Core Vitals metrics, content and storytelling, design, user convenience and building your own strong brand to the SXO bag. All this will allow you to build a solid ground for your e-commerce activities and stand out from the competition. What are your experiences in this area? Share in the comment. 
Appropriate website structure, errors on the page, correct URL addresses – such issues significantly affect the effectiveness of positioning, therefore the skillful creation of redirects on the website should be one of the important elements of the positioning strategy. However, you should remember about moderation – the lack of redirects is a serious problem, but their excess can also weaken the website. Correctness and optimization of implementation are important in developing User Experience. The smoother, more convenient and easier a given user browses a website, the more time he or she will spend on it and the more likely to return to it. Redirects affect not only website traffic, but conversion as well. Consider online stores – each time a potential customer encounters a 404 error, the chances of it being that he will decide to continue browsing the assortment and the final transaction. It is worth regularly monitoring the operation of the website and checking if all redirects are functioning flawlessly, then we increase our chances of quickly detecting any errors and fixing them before it has a negative impact on the operation and effectiveness of the website.
---
#1 SEO Company in Dubai | Best SEO Agency Dubai, UAE
---
Higher position in Google
You will receive tips on how to improve the position of your website in the search engine such as Bing and Google.
Technical analysis
We will evaluate your website in terms of basic technical parameters related to SEO. Marketing and SEO with Dubaiseo.net
Accessibility for Internet users
You will learn if your website works properly on mobile devices and if it loads quickly. Marketing and SEO with Dubaiseo.net
DubaiSeo.net – Are you looking for the best SEO company in Abu Dhabi and Dubai? you can have best experts for Google and Bing search engine optimization. We are marketing experts in terms of marketing, deliver premium SEO services for their clients in the United Arab Emirates.
Search engine optimization, Marketing, SEO in Dubai
Dubai SEO Team is the main Online Marketing Company in Dubai and generally speaking UAE. We are giving financially savvy and result arranged answers for our customers in Dubai, Abu Dhabi, Sharjah, Qatar, Oman, and so forth. Our high level and excellent web administrations make us recognized from our rivals in UAE market.
SEO in Dubai | Award-Winning SEO Agency in UAE
We have first rated seo agency in the UAE for SEO, PPC, Social Media, and we are Digital Marketing experts in our group who ensure that every one of the tasks are completed in Google, Facebook, Linkedin and an expert manner seo firm with center around further developed ROI for our customers in Dubai.
UAE SEO – website optimization – Positioning in Google and Bing
For 20+ years, Dubai SEO has been delivering superior visibility for websites in Google and Bing in the United Arab Emirates. You would know that Google is UAE's top search engine and we become reliable and experienced and the best SEO company in Dubai, UAE. We are also one of the fastest working Online Marketing agency in the United Arab Emirates. We provide high-end Search Engine Optimization, marketing and social media services in competitive price.
We will check if your website is correctly integrated with Facebook and Google Maps. Marketing and SEO with Dubaiseo.net
Get your free 30 minute strategy session with an experienced digital marketer from Dubai SEO company. Receive a free, no obligation quote!