Tips: Visit our store: You can order an SEO service from our company online, and we will start working on your website much faster. 
---
Fill out the form
and get a free quote!
GET A FREE QUOTE FOR SEO ACTIVITIES FOR YOUR BUSINESS
Leave us a contact to you, and we will call you back and present an offer tailored to the needs of your business.
---
Table of Contents:
What is positioning based on?
Benefits and threats of self positioning
When is it worth positioning your website yourself?
How to acquire SEO knowledge?
Positioning a website is a long-term process that requires not only patience, but also knowledge of website optimization for search engine guidelines. Many entrepreneurs decide to carry out SEO activities on their own. While this approach is risky, it can prove beneficial in some situations, resulting in greater visibility and a higher position.
What is positioning based on?
The key goal of positioning is to raise the position of the website in the search engine. The effect of this phenomenon is greater organic traffic , which, under favorable conditions, may translate into a higher conversion rate . Due to the fact that Google dominates the market, any optimization changes carried out in accordance with the guidelines for webmasters (Webmaster Guidelines) for this search engine. Following these guidelines will allow you to adjust your site appropriately so that the site can rank higher in organic search results.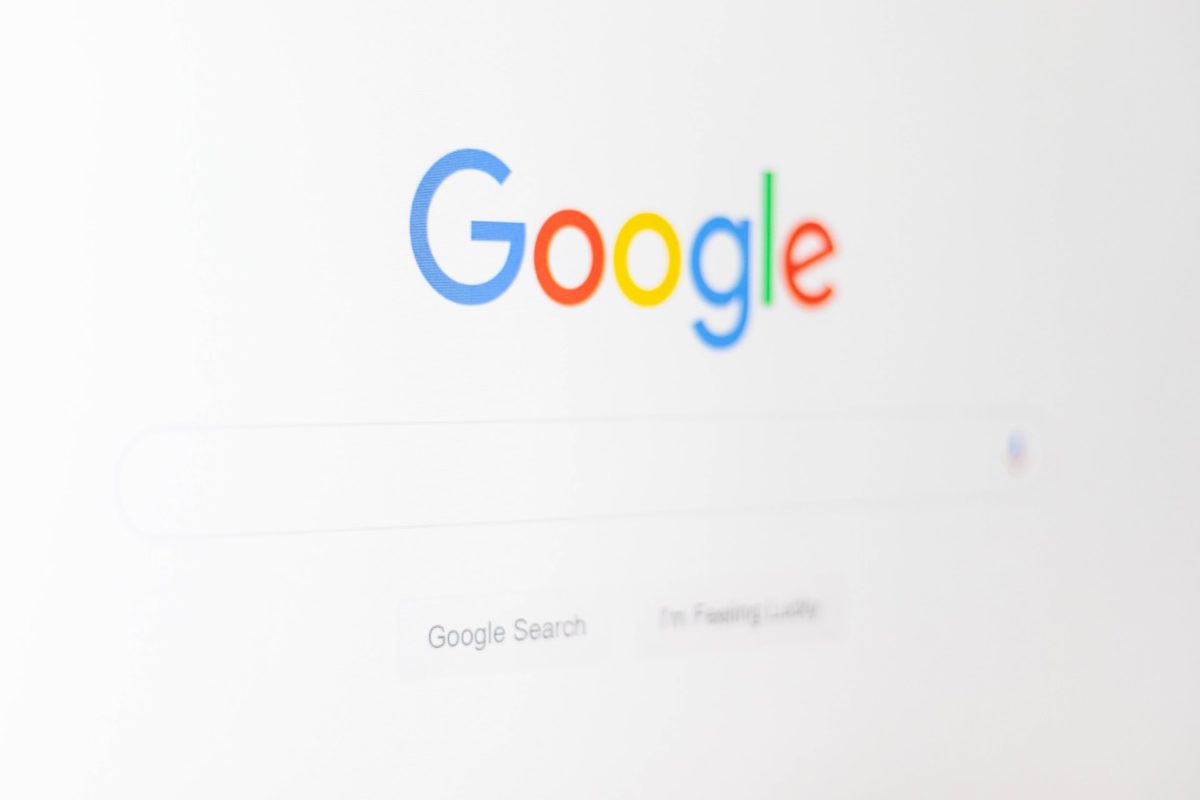 The search engine uses hundreds of different factors to determine the position. Not all of them are known, but Google clearly indicates in the documentation of the Webmaster Guidelines what elements should be focused on in order for the domain to achieve satisfactory results. Violation of the guidelines in SEO jargon is referred to as using Black Hat techniques – they are not allowed, and their detection may result in the imposition of a filter or a ban. Whether the domain uses forbidden solutions is verified by various Google algorithms such as Panda, Penguin, and Hummingbird. The basic SEO activities include technical optimization, content marketing and obtaining external links. All activities in the field of positioning should be implemented in such a way that not only meets the search engine guidelines, but also meets the expectations of users. Therefore, an important part of SEO is reducing loading time, optimizing responsiveness, UX / UI design and creating substantive content that Internet users are looking for.
According to research published on the Search Engine Journal portal, about 28.5% of users click on the first organic search result . Then these values ​​decrease. The last result on the first page – i.e. the tenth one – arouses interest among approximately 2.5% of Internet users . This statistic shows how important SEO is.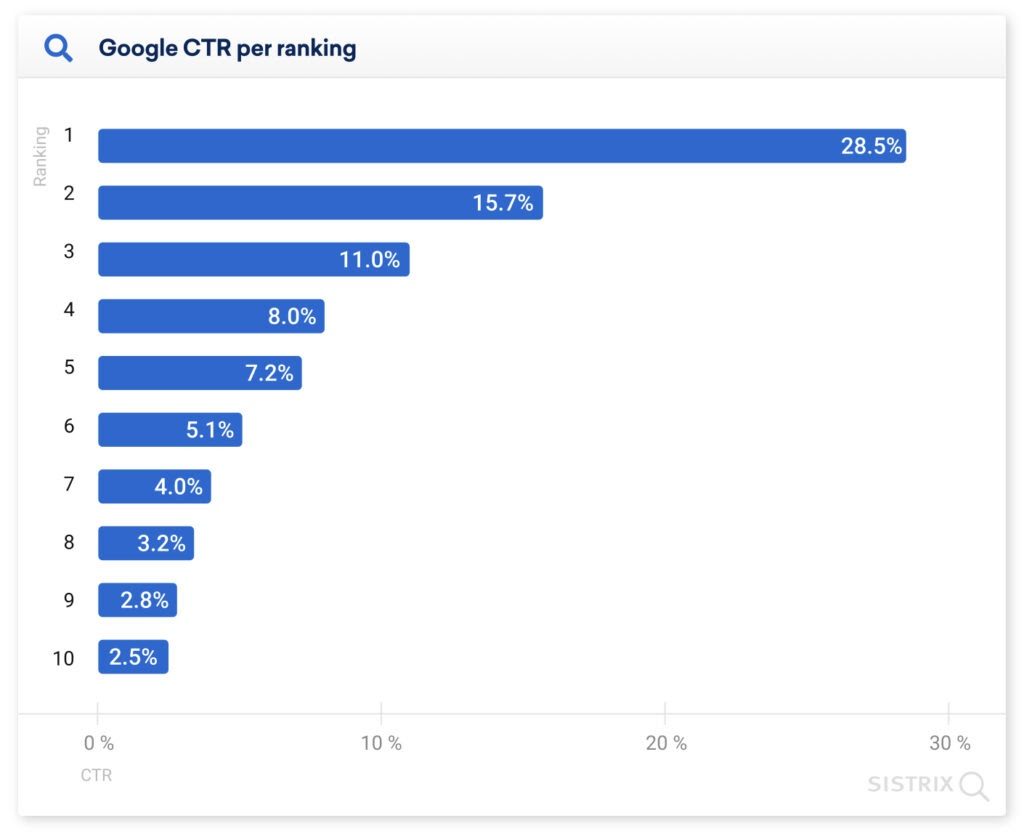 Source : SearchEngineJournal.com – Over 25% of People Click the First Google Search Result.
Choosing key phrases
Independent positioning should start with preparing the selection of key phrases . It is the process of selecting valuable phrases, which are then adapted to individual subpages of the domain. The development of a comprehensive selection allows you to avoid cannibalization of key phrases . At the same time, such a document greatly facilitates positioning. A specific word should only match one URL. Thanks to this, the website owner can notice the first SEO effects much faster. Based on the selection, any optimization changes should be made, as well as creating content on the website.
Source : An example of a selection of key phrases. Own study.
To search for key phrases, you should use specialized tools that provide data on the monthly search rate of a specific phrase – for example Senuto , SurferSEO or Ahrefs . The more often given words are searched by Internet users, the greater the chance of higher traffic after reaching a high position. However, it is worth remembering that key phrases with high traffic are competitive at the same time, so optimization of the website for such words may be a bit more demanding. In the case of new websites, a good solution is to use long-tail phrases . These are expressions with the so-called "long tail". They consist of a few words and their competition is low.
Technical optimization
Technical optimization of the website is one of the most important SEO segments. On-site errors can make it much harder to achieve satisfactory results in the Google search engine. Independent technical optimization is possible even without advanced knowledge of HTML and CSS. However, these skills are extremely useful, especially when your website code needs some serious updating. Depending on which CMS the website is operated by, technical optimization can be flexible (open source) or strongly limited (SaaS). Therefore, it is difficult to clearly define how many changes the website owner can introduce on his own. Technical optimization includes mainly :
Meta data setting (title and description);
Creation and optimization of the mobile version of the website;
Shortening the page loading time;
Create alt attributes for graphics;
Uploading your sitemap to Google Search Console;
Setting redirects;
Verification and setting of canonical tags;
Internal linking optimization;
Verification and possible editing of the website structure,
URL optimization.
Create quality content
Creating content on a website has two goals. First of all, it is valuable information for users. Second: the content is analyzed by Google robots. Then the search engine verifies the content to match the answer to the user's query. If the content is substantive and valuable, there is a high probability that it will achieve a high position. Content is a signpost for the Google search engine. For this reason, content creation is extremely important when implementing an SEO strategy, and the lack of content makes it much more difficult to get high positions. Theoretically, self-building content is extremely beneficial for the owner of the website. First of all, it is saving – instead of hiring a copywriter, you will write the text on your own. However, it should be remembered that the content must be adapted to the requirements of users and the search engine at the same time. The process of creating such content is known as SEO copywriting . If the website owner does not have a "light pen" and SEO rules are alien to him, it is difficult to prepare valuable content on his own. In this case, a more advantageous solution is to use the services of a copywriter or an experienced agency.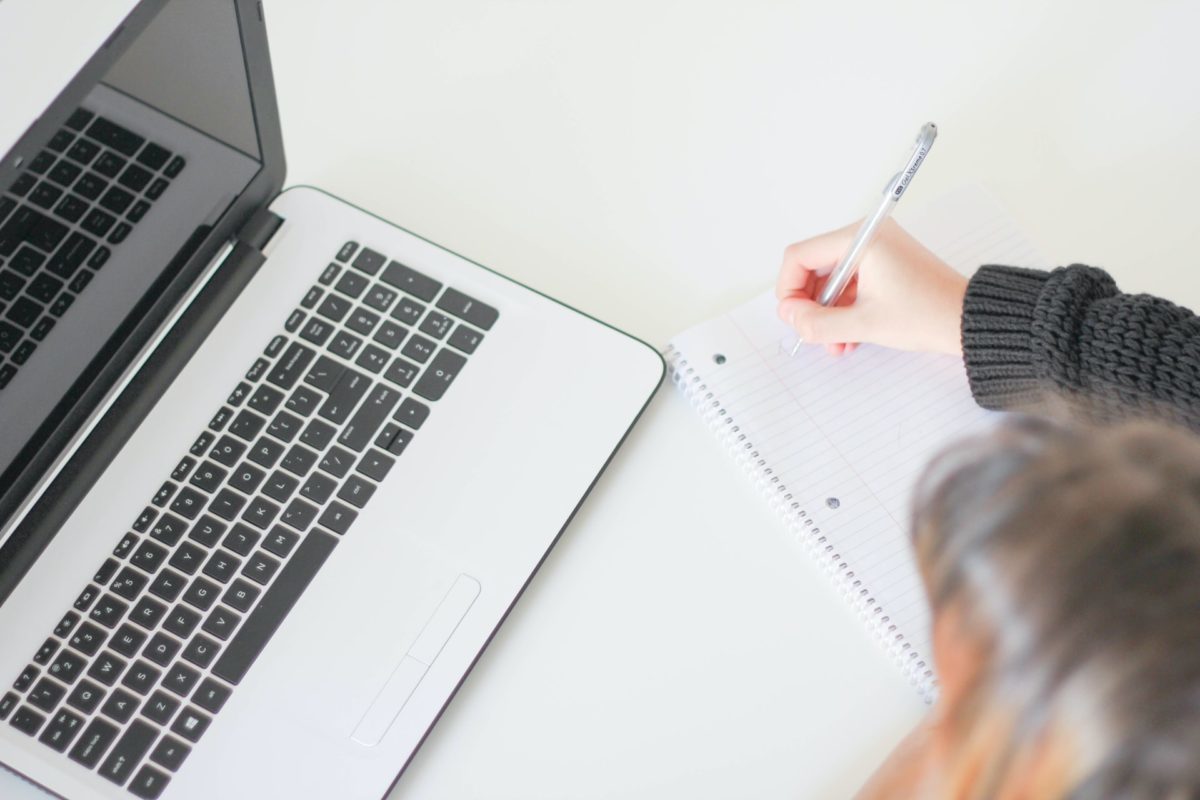 Acquiring external links
External links leading to the positioned domain are treated by the Google algorithm as some kind of "recommendations". Their acquisition – i.e. link building – has a positive impact on the visibility of the site in the search engine. The dofollow attribute is an important factor. Such link transmits the maximum "power" of the positioned website. Quality, not quantity, should be the main consideration when obtaining links. Links from spammy sites and unrelated sites can negatively affect your visibility. Obtaining links naturally is also important. Link building is a process, not a one-time technique. Acquiring valuable backlinks is the foundation of your SEO strategy.
Benefits and threats of self positioning
Step-by-step details of positioning are presented in the article " Stages of store positioning – from audit to conversion optimization ". This compendium of knowledge is perfect for entrepreneurs who want to use the Google search engine to increase conversions through SEO. Independent positioning has one very important benefit: it is cheaper than when working with an agency. However, it should be remembered that such activities require knowledge, time and patience. Moreover, implementing changes without SEO competences increases the risk of using Black Hat techniques (even in an unconscious manner). As a result, the domain is exposed to declines rather than increases in the search engine. Therefore, before the website owner starts preparing the SEO strategy on his own, it is worth acquiring the appropriate knowledge in the field of positioning.
Standalone SEO Threats:
Possibility of accidental implementation of Black Hat SEO,
Long waiting time for effects, and sometimes their complete absence,
Difficulties with implementing some changes, especially those slightly more advanced,
There is no constant help of specialists.
Self SEO benefits:
Limiting SEO expenses,
Better familiarization with the CMS system,
Acquiring knowledge of HTML and CSS.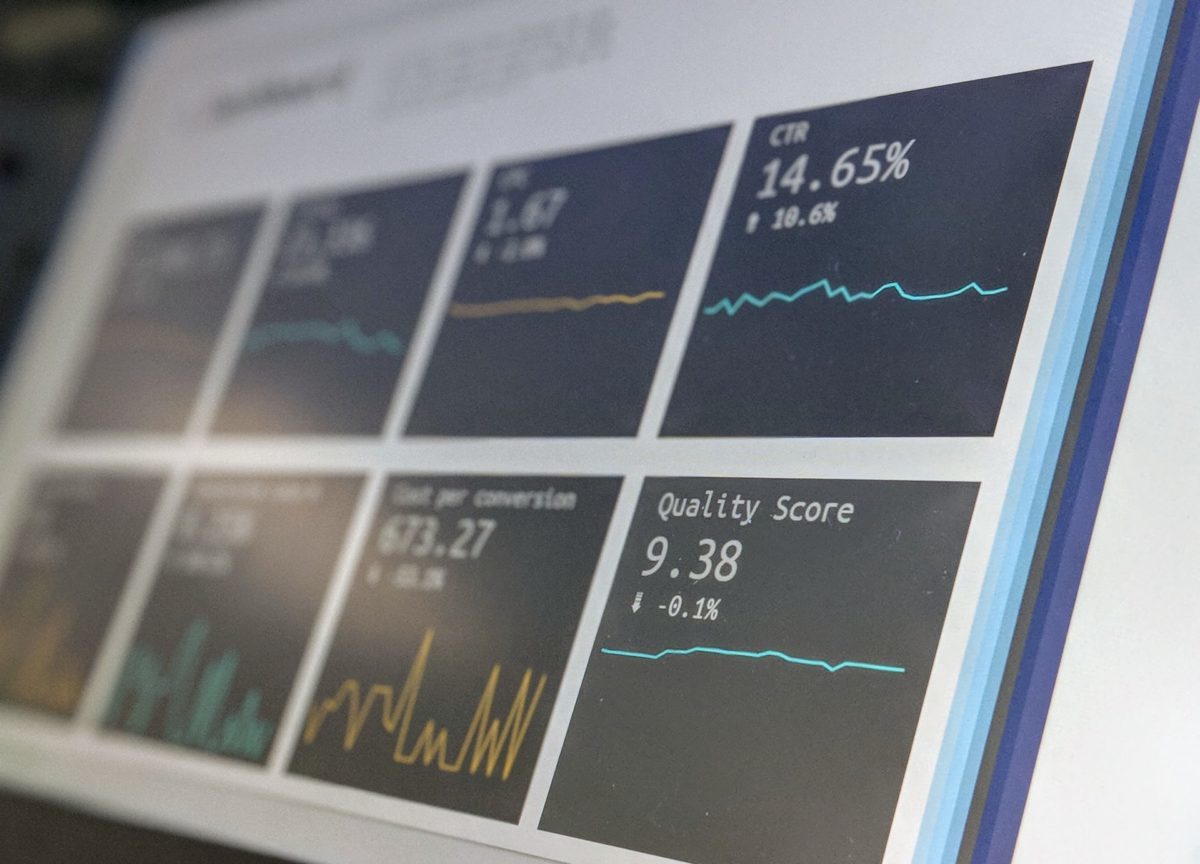 When is it worth positioning your website yourself?
Self-positioning of a website works mainly for small websites that are just starting their online business. This is the time when, as a rule, the website owner does not have too much marketing budget. Then it is worth thinking about independent SEO based on technical optimization and creating quality content . Small websites are not as complicated as large websites with hundreds or thousands of pages. Therefore, positioning on your own is a bit simpler, which favors amateurs. Standalone SEOIt will also work well in industries with low competitiveness. In such a situation, fewer domains compete for high positions in the Google search engine. Thanks to this, even limited actions in the field of positioning can turn out to be effective.
How to acquire SEO knowledge?
There are many methods to learn SEO . The most effective include courses and workshops organized by experienced specialists. Although they are most often paid, many of them are very popular due to their quality. Free sources of knowledge include blogs, webinars, articles published by SEO agencies and video materials published on websites such as YouTube. There are also a number of books on the market that deal with the subject of positioning. However, it should be remembered that SEO is a development industry, so such materials quickly lose their relevance. In the context of blogs, it is worth observing those conducted by a group of qualified experts. Here are a few of them:
Search Engine Land – searchengineland.com
Search Engine Journal – searchenginejournal.com
Neil Patel Blog – neilpatel.com/blog
Google blog – blog.google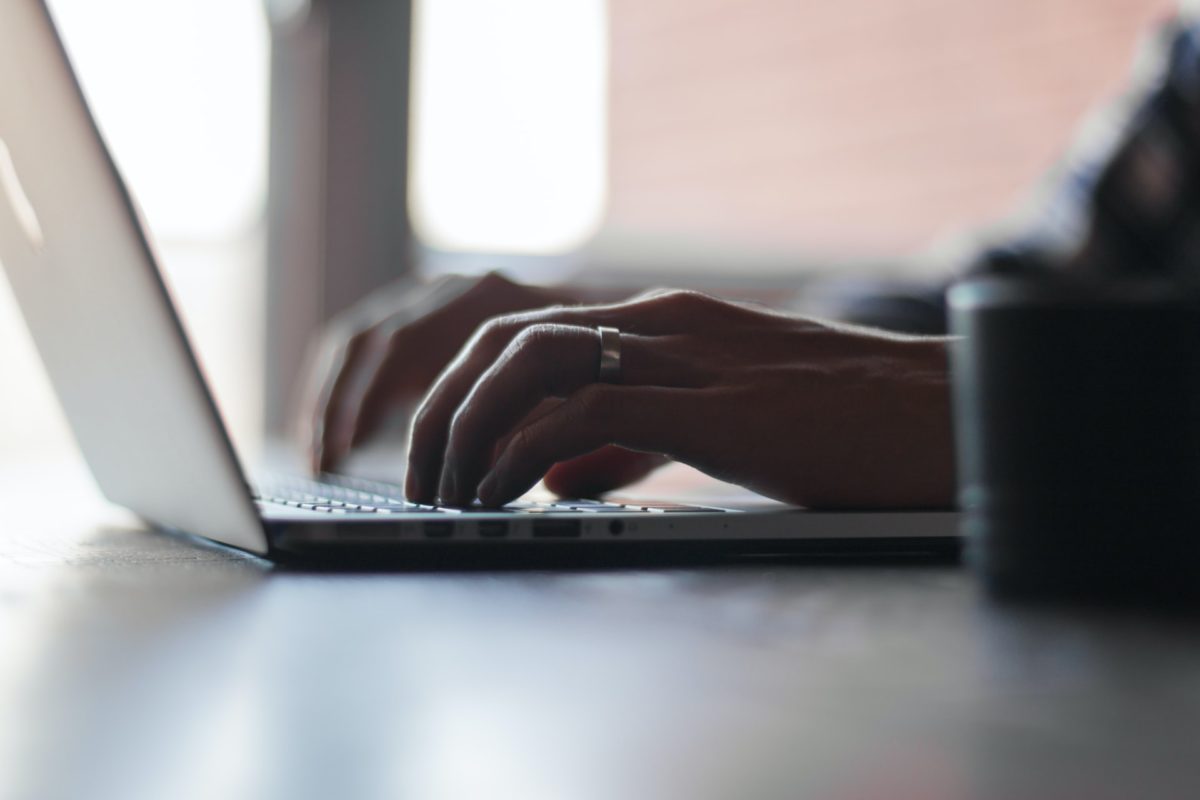 Theory is not enough. Practice plays an important role in SEO. The lack of experience significantly hinders the implementation of effective positioning. As a website owner, you can try to individually prepare a strategy and then implement it by trial and error. You will see for yourself exactly which techniques are effective. Just remember to strictly avoid unethical activities known as Black Hat. It is worth positioning a website on your own only if the website owner has appropriate knowledge in this matter. Otherwise, SEO can only be a waste of time.
Appropriate website structure, errors on the page, correct URL addresses – such issues significantly affect the effectiveness of positioning, therefore the skillful creation of redirects on the website should be one of the important elements of the positioning strategy. However, you should remember about moderation – the lack of redirects is a serious problem, but their excess can also weaken the website. Correctness and optimization of implementation are important in developing User Experience. The smoother, more convenient and easier a given user browses a website, the more time he or she will spend on it and the more likely to return to it. Redirects affect not only website traffic, but conversion as well. Consider online stores – each time a potential customer encounters a 404 error, the chances of it being that he will decide to continue browsing the assortment and the final transaction. It is worth regularly monitoring the operation of the website and checking if all redirects are functioning flawlessly, then we increase our chances of quickly detecting any errors and fixing them before it has a negative impact on the operation and effectiveness of the website.
---
#1 SEO Company in Dubai | Best SEO Agency Dubai, UAE
---
Higher position in Google
You will receive tips on how to improve the position of your website in the search engine such as Bing and Google.
Technical analysis
We will evaluate your website in terms of basic technical parameters related to SEO. Marketing and SEO with Dubaiseo.net
Accessibility for Internet users
You will learn if your website works properly on mobile devices and if it loads quickly. Marketing and SEO with Dubaiseo.net
DubaiSeo.net – Are you looking for the best SEO company in Abu Dhabi and Dubai? you can have best experts for Google and Bing search engine optimization. We are marketing experts in terms of marketing, deliver premium SEO services for their clients in the United Arab Emirates.
Search engine optimization, Marketing, SEO in Dubai
Dubai SEO Team is the main Online Marketing Company in Dubai and generally speaking UAE. We are giving financially savvy and result arranged answers for our customers in Dubai, Abu Dhabi, Sharjah, Qatar, Oman, and so forth. Our high level and excellent web administrations make us recognized from our rivals in UAE market.
SEO in Dubai | Award-Winning SEO Agency in UAE
We have first rated seo agency in the UAE for SEO, PPC, Social Media, and we are Digital Marketing experts in our group who ensure that every one of the tasks are completed in Google, Facebook, Linkedin and an expert manner seo firm with center around further developed ROI for our customers in Dubai.
UAE SEO – website optimization – Positioning in Google and Bing
For 20+ years, Dubai SEO has been delivering superior visibility for websites in Google and Bing in the United Arab Emirates. You would know that Google is UAE's top search engine and we become reliable and experienced and the best SEO company in Dubai, UAE. We are also one of the fastest working Online Marketing agency in the United Arab Emirates. We provide high-end Search Engine Optimization, marketing and social media services in competitive price.
We will check if your website is correctly integrated with Facebook and Google Maps. Marketing and SEO with Dubaiseo.net
Get your free 30 minute strategy session with an experienced digital marketer from Dubai SEO company. Receive a free, no obligation quote!